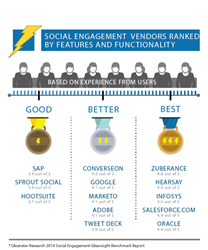 Pleasanton, CA (PRWEB) July 31, 2014
Gleanster Research announces the publication of the brand new 2014 Benchmark Report on Social Engagement, which provides a comprehensive look at how top performing organizations promote the brand and engage target audiences via social media.
This 30-page Benchmark Report on Social Engagement highlights the experiences and intentions of 350+ companies, and features analyst commentary on 36 social media marketing solution providers. "There are lots of nuances to social media engagement – and with over 300 technologies that have social capabilities, it's pretty confusing for buyers," says Ian Michiels, Principal Analyst at Gleanster.
Interestingly, 8 out of 10 respondents indicate current initiatives in social engagement are born from a desire for social capabilities. That suggests that existing tools and investments may not be addressing their needs. What's going on here? The report explores key challenges users face with social engagement, not the least of which is integration with existing internal systems. Users want and need more help closing the loop on social media campaigns and linking them to broader initiatives. Social media platforms are still too siloed internally, says Michiels.
This powerful report features vendor reviews of 36 social engagement vendors, an analyst perspective on each, and vendor rankings based on the experiences of end users. Adobe, ArgyleSocial, Buffer, Converseon, Crowdbooster, Expion, FALCON Social, HearSay Social, HootSuite, Infosys, MarketMeSuite, Marketo, Mass Relevance, Meltwater Buzz, Microsoft, Oracle (acquire Vitrue), Salesforce.com (acquired Buddy Media), Sendible, Shoutlet, Socialbakers, SocialFlow, Socialware, Spredfast, Sprinklr, Sprout Social, Syncapse, TapInfluence, Targeted Group, TigerLily,Tracx, Tweet Deck, UberVU, Votigo, WildFire (Google), and Zuberance are covered in the report.
To download the report, visit http://www.gleanster.com/gleansight/2014-social-engagement
About Gleanster Research:
Gleanster surveys the most effective business leaders on the planet, and publishes the findings online so you can emulate their success. Our reports highlight the experiences of top performing organizations; why they invest in technology, how they overcome challenges, and how they maximize the value of their investments. For more information, please visit http://www.gleanster.com.