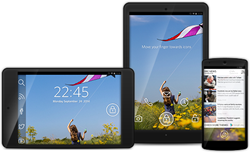 The partnership with Celltick helps us differentiate our products and deliver value to our users, enabling our brand to stand out to the consumer in a market where customer preference is a key
San Francisco, CA (PRWEB) July 31, 2014
Celltick, a global leader in mobile initiated commerce, today announced that it has partnered with Phaser®, a large manufacturer of audio and video products for the automotive market, as well as electronics and appliances. This partnership enables Phaser® to create an intelligent interface based on Start technology that will become the default start screen for its Android devices. The new interface will provide users with personalization capabilities and a seamless state-of-the-art user experience.
With Start, users get what they need on the first screen of their phone without having to browse through screens, menus and folders. Start allows users to easily launch apps and to get a quick view into their social media networks, news feeds, music services and multimedia. Start's back-end recommendation engine utilizes big data technology and collaborative filtering for individualizing and offering context sensitive personalized suggestions, based on user behavior.
Through this partnership, Celltick provides Phaser® with an effective means of maintaining customer relationships and a powerful differentiation tool that delivers high value to the end consumer and build brand loyalty.
"The partnership with Celltick helps us differentiate our products and deliver value to our users, enabling our brand to standout to the consumer in a market where customer preference is a key" said Jacques Storch, Partner Director of Phaser ®. "Phaser ® is extremely competitive in price in the market segments where we operate and our goal is to add other variables to consolidate ourselves in this segment of smartphones".
"We are very excited to partner with Phaser®" says Ronen Daniel, CEO of Celltick. "This partnership marks our ability to become a strategic partner and help device manufacturers, like Phaser® achieve their business goals while providing a great user experience."
Start has a growing ecosystem that includes hundreds of themes and plug-ins that are available for download from Google Play. Celltick powers billions of mobile-initiated commerce transactions for virtual and physical goods serving more than 110 million active consumers across 25 countries.
###
About Phaser ®
Phaser ® brand has a range of audio and video products for the automotive market, as well as electronics and appliances, being imported and distributed by Softronic and Kop. The company is among the top 1.000 of biggest companies in Brazil, according to the ranking of Exame magazine.
About Celltick
Celltick is a global leader in mobile initiated commerce. Celltick's Start is a next generation personalized intelligent interface for Android devices. Celltick is unique in creating and managing mass market mobile marketing solutions for mobile operators, large media companies, device manufacturers and large brands. Celltick enables its partners to engage and monetize their users on the mobile. The company drives billions of transactions annually across more than 110 million active consumers across its different mobile platforms in over 25 countries. A rapidly growing company, Celltick has subsidiaries in Europe, Asia, South America and the U.S. For more information, visit http://www.celltick.com.
Press Contacts:
Celltick
Ramgopal Vidyanand/Shirit Flider
press(at)celltick(dot)com