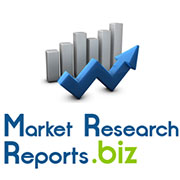 The Markets For Smart Lighting Drivers, Controllers And Sensor Chips - 2014
Albany, NY (PRWEB) July 31, 2014
This report analyzes the market for LED drivers, MCUs, sensors and other chips used in smart lighting. It is the latest in NanoMarkets ongoing series of reports on smart lighting, which covers both the lighting itself and important components and chips used in smart lighting systems. In this report we explicitly discuss smart lighting components in the context of the emerging Internet-of-Things.
Browse full report at http://www.marketresearchreports.biz/analysis/213682.
The report focuses on analysis for the chips that will be used in the newer kinds of smart lighting -- color tuning (mood lighting) and visible light communications (VLC) -- as well as more traditional smart lighting aimed primarily at increasing lighting efficiency. Coverage includes innovative devices such as intelligent LED drivers with embedded sensors and the latest wireless standards for smart lighting such as Bluetooth Low Energy (BLE).
In addition, the report also covers the needs of all the major end-user segments of the market. We take these to be commercial and industrial, residential, government and public buildings. We have also discussed the available markets for smart lighting in transportation and outdoor lighting. Detailed eight-year market projections of seven major smart lighting chip types in both revenue and volume terms are presented. Additional breakouts are provided by (1) the part of the lighting system in which the chips are used and (2) the technology generation of the system itself and (3) the type of building, vehicle or location in which the smart lighting systems will be used.
Download full report with complete TOC at http://www.marketresearchreports.biz/sample/sample/213682.
The report is designed for semiconductor industry executives that want to better understand the opportunities in smart lighting electronics. It is also intended to provide guidance to firms in the LED and smart lighting systems sectors who need to better understand where smart-lighting electronics trends will take their businesses.
Related Reports -
Industrial And Commercial LED Lighting (Industrial, Commercial, Architectural, And Outdoor) Market - Global Industry Size, Market Share, Trends, Analysis And Forecast, 2013 - 2019
View full report at http://www.marketresearchreports.biz/analysis/197459.
Global industrial and commercial LED lighting market was worth USD 12,927.9 million in 2012 and is expected to reach USD 86,087.9 million by 2019, growing at a CAGR of 30.8% from 2013 to 2019. Europe was the largest market for industrial and commercial LED lighting market in 2012. Growth in this region is primarily driven by government initiatives and projects for LED lighting deployment. In addition, ban on incandescent bulbs across the different countries is expected to drive the market in near future.
Download full report with complete TOC at http://www.marketresearchreports.biz/sample/sample/197459.
The report includes segmentation of Industrial and Commercial LED Lighting market by end user and geography. Further, it provides current and forecast market size by revenue for the aforementioned categories. Cross sectional analysis for end user and geography segments is a part of the scope. Factors influencing and inhibiting the growth of the market have been analyzed. Porter's five forces analysis offers insights on market competition.
LED Lighting: Market Shares, Strategies, And Forecasts, Worldwide, 2013 To 2019
View full report at http://www.marketresearchreports.biz/analysis/176103.
Frequent product introductions have characterized the LED lighting industry. There is a highly competitive pricing environment with the current price point of $10 in 2013 per light about to decline to $6 per light. These market characteristics increase the need for continuous innovation." Sales of LEDs that outpace incandescent bulbs in North America are expected to soon completely eliminate incandescent bulbs.
Download full report with complete TOC at http://www.marketresearchreports.biz/sample/sample/176103.
The LED lighting market is anticipated to grow 45% per year through 2019. The LED lighting market at $4.8 billion in 2012 is anticipated to go to $42 billion by 2019. The reason is the declining price points, the increased interest by the channel in pushing LEDs to consumers. LEDs provide the best lighting solution. The phase out of incandescent lights has begun, the onset of LED command of the market is upon us.
About Us
Marketresearchreports.biz is the most comprehensive collection of market research reports. Marketresearchreports.biz services are especially designed to save time and money of our clients. We are a one stop solution for all your research needs, our main offerings are syndicated research reports, custom research, subscription access and consulting services. We serve all sizes and types of companies spanning across various industries.
Browse latest market research articles at https://www.linkedin.com/today/author/138651764.