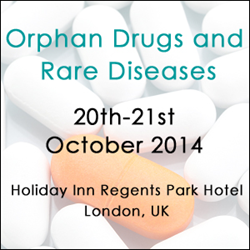 (PRWEB UK) 31 July 2014
SMi is proud to have Dr. Günter Harms, Market Access & Public Affairs Director at Shire, giving the opening address at this year's Orphan Drugs and Rare Diseases conference taking place in London on October 20th and 21st 2014. His knowledge and expertise will provide key insight into market access and the challenges faced in the field.
SMi recently caught up with Dr. Günter Harms and here is what he had to say:
Q: What do you believe are the biggest challenges for the pharmaceutical industry regarding Orphan Drugs and Rare Diseases?
A: With the unique complexities of rare diseases and national differences in patient access it really requires a lot of dialogue between stakeholders. General trends such as the evolving HTA processes also impact orphan drugs and require new approaches and also increased involvement of the patient and patient representatives.
Q: What is the future for Orphan Drugs?
A: R&D of orphan drugs is a long term commitment, with an increasing availability of treatments over the last decade – for numerous serious, life-threatening rare diseases were previously no therapy existed. This is a very successful development since implementation of the EU regulation for Orphan Medicinal Products. With up to 8,000 rare diseases, and for many with still no treatments, there is still a long way to go.
Benefits of Attending 2014 Orphan Drugs and Rare Diseases Conference:

Hear important insights from Ian Hudson, CEO, MHRA on the Early Access to Medicines Initiative and adaptive licensing
Focus on enhancing development pathways, with the growth of the commercial pipeline for orphan drugs and rare diseases
Assess tools for consideration to gain early market access and enhance patient recruitment
Interactive round table discussion led by Dominic Nutt, Director of Communications, The Saatchi Cancer Initiative, M&C Saatchi on creating a culture of innovation in the field of orphan drugs and rare diseases
Key Speakers:

Dr Gunter Harms, Market Access & Public Affairs Directore, Shire
Bertram Haussle, Chaiman of the Board of Management, IGES Institut
Josie Godfrey, Associate Director-Highly Specialised Technologies, NICE
Chris Hart, Information Practice Leader, AstraZeneca
Anthony Hall, Co-Founder, Findacure Foundation
For more information please visit http://www.smi-online.co.uk/2014orphandrugs64.asp.
If you would like to attend this conference as a delegate please contact Alex McCann on +44 (0) 207 827 6128 or e-mail amccann(at)smi-online(dot)co.uk.
If you are interested in sponsoring this event contact Alia Malick on +44(0)20 7827 6168 or email amalick(at)smi-online(dot)co.uk.
If you would like to become a media partner contact Sarah Watson on +44 (0)20 7827 6134 or email swatson(at)smi-online(dot)co.uk.