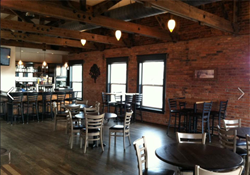 The Metal Ladder Back Chairs and Bar Stools are the most popular choices for restaurants and bars.
Missoula, MT (PRWEB) July 31, 2014
Restaurant furniture manufacturer and distributor, Affordable Seating, has helped Flathead Lake Brewery update the décor of their Missoula, Montana pubhouse by supplying them with new bar stools.
The Flathead Lake Brewing Company started in 2004 in Woods Bay, Montana by owner Greg Johnston. In 2012 Flathead Lake Brewing opened a brewery and pubhouse in Missoula, MT. Located on the 1st floor is their Imperial Lounge which is open daily. This space has been designed with many tables and private booths for cozy dining or to relax during the day and work on WiFi activities. The front of the building opens completely up to let inside and outside merge into one. There is a patio where customers can enjoy a pint of FLBC ale or choose a glass of wine from over a hundred varieties from the wine cellar.
The Pubhouse is located on the second floor and houses a room that has four T.V.s (two giants, great for game day!) and multiple two story windows that let in amazing views and light. There are 16 great tap selections to choose from and Trivia every Wednesday night. Down the hall is the Centennial Room which is a lounge area with a few dining tables mixed in. This quaint area of the building offers a great gathering place for friends after a long day, plus a balcony to step out on and take in the sights and sounds of Higgins Ave.
The co-owner of the Flathead Lake Brewing Company of Missoula turned to Affordable Seating because of its reputation for durable attractive furniture at low prices. "Durable seating was important to her because this is a high traffic venue" Affordable Sales Rep. Dave M. remarked. Affordable Seating has established itself as a leader in the restaurant furniture business because of its many years of working closely with restaurants and its commitment to high quality. Many of its products are made in the U.S.A.
She bought Affordable Seating's Ladder Back Metal Bar Stool in black frame finish and buckskin vinyl seats. The Metal Ladder Back Chair currently sells for only sell for only $49.99 with standard options. A matching chair is also available for $31.50. The commercial metal chair comes with a standard black sandblast frame finish, plastic glides and a padded seat. The frame is available in 5 different finishes. Customers have the choice of a solid wood seat or an American made padded seat made of fabric or vinyl. The wood seat is available in 6 different finishes and for an upholstered seat there are many options to choose from.
"The Metal Ladder Back Chairs and Bar Stools are the most popular choices for restaurants and bars," according to Dave. "They are stylish and versatile enough for any type of establishment. They are also very tough and durable, which makes them a smart buy."
To view Affordable Seating's full selection of restaurant chairs, bar stools, booths, tables and patio furniture visit http://www.affordableseating.net or call a customer service representative at (888) 495-8884.
The Flathead Lake Brewery Missoula Pubhouse is located at 424 N. Higgins Ave. in Missoula, MT. They can be contacted at (406) 542-3847.