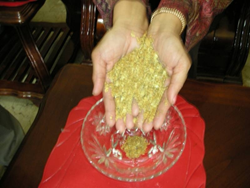 "Some of us will do our jobs and some will not, but we will be judged by only one thing - the Result" -------Vince Lombardi
Pretoria, Gauteng, Republic of South Africa (PRWEB) July 31, 2014
AU MIN AFRICA PTY LTD, a South African Corporation is the Solid INVESTMENT OF THE FUTURE – had merged and acquired GreenGold Ray Energies on July 8, 2014 as the surviving South African Mining Corporation. GreenGold Ray Energies had ceased to exist as a U.S.A Corporation as of July 8, 2014. All existing shareholders of record of GreenGold Ray Energies are now the current Shareholders of AU MIN AFRICA PTY LTD. Currently, management is processing its "Dual Stock Listing" while maintaining its full SEC compliance. AU MIN AFRICA's main goal is to re-register its trading status in the higher tier in the U.S.A. Stock Exchange Market as the Primary Listed Securities, while it simultaneously processes its trading eligibility in the Main Board under the Secondary Listed Securities of the Johannesburg Stock Exchange in South Africa (JSE).
AU MIN AFRICA PTY LTD envisaged the production level of 1.4 tons per annum estimated to be successfully achieved within the next coming 12 to 24 months and the years, thereafter. AU MIN AFRICA PTY LTD is very fortunate that its portfolio of products is well suited entering into these golden opportunities for the purpose of accelerating its profitable business endeavor to become one of the "Leading African Precious Metals and Gems Producers/Distributors" which applies western standards of production of the most sought after Gold, Diamond, Platinum, Palladium and other Precious Gems and Metals commodities.
AU MIN AFRICA PTY LTD currently holds eight (8) mining concessions in the African Continent, had concluded all the preliminary research, license negotiation, initial drilling works, successfully managed to overcome the start-up difficulties and finally brought the first mine into operation and obtained a "Rare Earth Minerals and Gold Export Licenses". The overall geological reserves assets of AU MIN AFRICA PTY LTD are estimated to exceed 170,000t oz of Gold, 150 tons or equals to app. 4,822,612 t oz of Silver, 130,500,000 tons or equals to app. 287,700,300,000 lbs of Copper and One Billion (1,000,000,000 tons) or equals to about 2,204,600,000,000 lbs of Nickel. At the current Gold price of about $1,321.00 USD/troy ounce, the Silver price of $21.00 USD/troy ounce, $3.21/lb. of Copper and $8.77/lb of Nickel, the total estimated Combined Gross Revenues are expected to exceed more than $20.2 Trillion USD, [$20,200,923,807,852.00 USD] over the lifetime of the investment!
AU MIN AFRICA PTY LTD created the global connections of golden opportunities for profitability within the mining industry and expects the Company to emerge in for some high-growth profitable mining business ventures in several African Nations. The Board of Directors and Officers quotes, "We are very optimistic because of the promising revenue generation and thanks to our mining interests, acquisitions and alliances of our experienced and sophisticated mining management in alliances with several mineral rich African Nations of Botswana, Namibia, Tanzania, Zambia, etc., besides the vast rich minerals "gold-diamond-platinum-palladium-coal" region of the Republic of South Africa, enabling AU MIN AFRICA PTY LTD to begin its liquidity, sustainability and profitability at any time soon. "
ABOUT AU MIN AFRICA PTY LTD
AU MIN AFRICA PTY LTD headquartered in Pretoria, RSA - Republic of South Africa is a growing international South African mining company whose primary business enterprise is "Precious Metals, Precious Gems, and other Minerals" from the world's renowned mineral-rich continent of Africa; is focused in the mining explorations, productions and sales of gold, silver, platinum, palladium, copper, other precious metals and precious gems such as amethyst, diamond, emerald, etc. AU MIN AFRICA PTY LTD's missions are: 1). to become one of the market leaders in the mining industry sector, by using environmentally friendly & alternative methods of refining gold and other precious metals, with regards to cutting edge engineering, design, construction and operation; 2). to introduce the state-of-the-art mining technology that can recover up to 99.9999% pure GOLD, for over a period of 35 years or more; 3), to use the most unique and cutting edge technology in terms of metals extraction! AU MIN AFRICA is committed to contribute to the economic and social prosperity of the people in its host community, to the implementation of sustainable livelihood for the people, safe-to-the-environment mining technology in the productions of commodities and productions of the most sought after Gold, Diamond other precious metals and gems commodities representing profitable endeavors, thereby enhancing its Shareholders' Equity Capital Value and achieving fiscal strength based on the principle of PROFIT-PEOPLE-PLANET. Management continues to focus on achieving increased PROFIT, while conducting business with utmost consideration and compassion for the PEOPLE and the protection of our PLANET and the Environment.
FORWARD-LOOKING STATEMENTS: Forward-looking statements involve known and unknown risks, uncertainties, performance or achievements expressed or implied by such forward-looking statements. Forward-looking statements in this release include statements regarding gold and other precious metals and precious gems production in future periods and factors that could cause actual results to differ materially from anticipated results. These include risks and uncertainties such as: risks relating to estimates of explorations of gold and other minerals reserves, mineral deposits and production costs, mining and development risks, the risk of commodity price fluctuations, political and regulatory risks, and risks of obtaining required operating permits and other risks and uncertainties. These stocks are very highly speculative and may be unsuitable for all but very aggressive investors. AU MIN AFRICA PTY LTD disclaims any intention or obligation to update or revise any forward-looking statements, whether as a result of new information, future events, or otherwise
SOURCE: AU MIN AFRICA
CONTACT: IR and CEO Fredric Makololo
[P] 001(888) 785.1113 ext. 2
Direct South Africa: + 276 1216 3231 / + 27 7 2055 9922
[E] InvestorRelations(at)auminerals(dot)biz; ceolfredricm(at)auminerals(dot)biz
[w] http://www.auminerals.biz