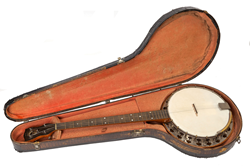 The sale will take place at Le Méridien Hotel, Piccadilly, London on Sunday, 23rd November 2014.
(PRWEB UK) 31 July 2014
A banjo owned and played by Rod Davis who was a member of John Lennon's first band, The Quarrymen, is to be sold by UK based TracksAuction.com. The Windsor Whirle Victor Supremus banjo is still very much in its original state. Rod Davis joined the Quarrymen in late 1956. The banjo was used by Rod at all the group's early gigs and also at the historic Woolton Village Fete concert, 6th July 1957, the day that Paul McCartney was introduced to John Lennon. The instrument was also played by John Lennon, Rod recalls, "If he broke a string mid-song John would quickly turn to me and he would take my banjo and continue the number. He had no problem with it as it was, of course, tuned to banjo tuning and the chords he had learnt from his mother worked perfectly, better in fact because the banjo had only four strings. It was then my job to replace the string on John's Gallotone as quickly as possible, so that we could swap instruments again before we started the next song. So not only John has played this banjo, but it has also been used by his mother Julia." A spokesperson for TracksAuction.com said, "We estimate the historic instrument will realise around £10,000 to £15,000".
The Quarrymen
The group was formed in late 1956 with John Lennon as its undisputed leader. The initial Quarrymen line-up consisted of John, Bill Smith on tea chest bass, Eric Griffiths on guitar and Pete Shotton on washboard, they were shortly joined by Rod Davis on banjo and Colin Hanton on drums. Bill Smith left soon after the group got together to be replaced by Ivan Vaughan who, in turn, was replaced by Len Garry. From humble beginnings at Quarry Bank High School the group underwent several personnel changes and eventually evolved into The Beatles.
The sale will take place at Le Méridien Hotel, London on Sunday, 23rd November 2014. A viewing day will also take place at the hotel on Saturday, 22nd November. TracksAuction.com are also now inviting consignments to add to a number of extremely high quality items that are already contained in the sale including an original 1960s Abbey Road Street sign, a Beatles handbill from Liverpool in 1961, an original Stuart Sutcliffe drawing, a Bill Wyman handwritten letter, numerous sets of Beatles autographs, a Madonna hand written and signed bank cheque and an Adam Ant 1981 Prince Charming shirt.
Several lots to be included in the sale are now available to view at http://www.tracksauction.com.
TracksAuction's first sale went extremely well with a signed copy of The Beatles White Album selling for £136,800.