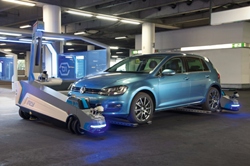 Ray parks and retrieves vehicles for customers, communicating with Scheidt & Bachmann's entervo operating system to attain accurate data on parking activity.
Dusseldorf, Germany (PRWEB) August 05, 2014
Parking Access and Revenue Control Systems provider Scheidt & Bachmann recently completed an interface with Serva Transport Systems GmbH that enables the reservation module from its entervo parking management system to communicate with Serva's latest parking invention Ray. Ray is a robotic valet system that eliminates the need for customers to search and park their own vehicles at the Dusseldorf Airport parking facility in Germany. Ray parks and retrieves vehicles for customers, communicating with Scheidt & Bachmann's entervo operating system to attain accurate data on parking activity.
Scheidt & Bachmann's entervo system communicates with Ray regarding space occupancy data. The reservation system first allocates a space in a certain area of the parking facility before Ray transports a vehicle to the assigned parking space. The valet robot uses sensors to photograph and measure a vehicle before transporting it to a designated parking spot. When a customer with a confirmed parking reservation passes Scheidt & Bachmann's entry verifier at the entrance, a data record containing the necessary data (e.g. the passenger's flight information) is sent to robot Ray.
Ray has intelligent data capabilities to schedule and calculate the estimated time when vehicles will be retrieved by their owners. Upon the customer's return to retrieve their vehicle, the interface transmits the data on the customer's return flight to Ray, enabling the robot to deliver the car back to one of the handover stations in good time. As soon as the vehicle owner's flight has landed, a message is sent to Ray telling it to remove the vehicle from the car park and make it ready. Passengers are thus able to retrieve their vehicle without additional wait time.
A robotic valet intelligence system cuts out the often tedious process of finding available spaces and maneuvering into it. Ray measures the vehicles and parks them bumper-to-bumper and wing mirror-to-wing mirror in order to save space. Parking robot Ray's valet transport system is currently available 24/7 in the PremiumPlus area of the Airport's P3 multi-level facility. There are currently an estimated 250 parking spaces available in the area.
For more information on Serva Transport System's parking robot Ray, visit http://serva-ts.com/key-benefits.7.0.html.
About Scheidt & Bachmann
Scheidt & Bachmann has been a leading international transportation solutions provider since 1872. The family-owned German company operates two of its largest divisions – Parking Systems and Fare Collections Systems – in the U.S. market from its subsidiary headquarter in Burlington, MA. The Parking Division offers parking access and revenue control systems to various industry clients including airports, hospitals, universities and municipalities. All of the software and hardware equipment are made internally at the S&B factory either in the U.S. or Germany. The company prides itself on maintaining a reputation as the top leader in the industry through its focus on innovation, reliability, flexibility and service. Visit Scheidt & Bachmann's website for more information at http://www.scheidt-bachmann.com.