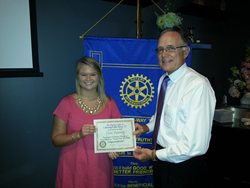 Austin, Texas (PRWEB) July 31, 2014
Turnquist Partners Realtors, Inc. ("Turnquist Partners") and the Rotary Club of Lake Travis have announced the winner of the Turnquist Partners Excellence Award, which is a scholarship awarded each year to one student of Lake Travis High School.
The Scholarship is awarded every year from proceeds generated during the Rotary Club of Lake Travis annual car raffle, which happens in the fall. Turnquist Partners has been the primary sponsor of the car raffle for 13 years and from this event, has been able to give a scholarship each year named the Turnquist Partners Excellence Award to one deserving Lake Travis High School student. The Lake Travis Rotary Club selects the Turnquist Partners Excellence Award recipient based on the student's financial need, community service and potential for success. This year's recipient is Cora Fanning and she will be attending Texas A&M in the fall to study Pre-Nursing.
"College is expensive and every bit helps," says Cora Fanning. "I am so grateful for this scholarship and Turnquist Partners for giving me the opportunity to pursue my dream of becoming a nurse."
"Turnquist Partners has raised over $80,000 for scholarships in the last 13 years," says Kathryn Scarborough, President and Realtor of Turnquist Partners. "This scholarship could mean the difference of attending college or not for these kids. We are so happy for Cora and wish her the best of luck at Texas A&M in the fall."
Visit http://www.laketravisrotary.org to find out more information on the upcoming 2014 car raffle.
About Turnquist Partners Realtors, Inc.
Turnquist Partners Realtors is a premier real estate firm based in Austin, Texas and has been redefining real estate in central Texas for 18 years. With more than 60 years of combined real estate sales and marketing experience, the owners, Steve and Michele Turnquist, have worked hard to make sure that Turnquist Partners is a highly ethical and professional company. With the help of their diversified group of experienced and specialized real estate agents, Turnquist Partners is one of the leading real estate firms in Texas. Turnquist Partners sits on the board of the worldwide LuxuryRealEstate.com Board of Regents – an exclusive network of elite real estate brokers from around the world. Turnquist is also globally connected with Mayfair International based in London to help extend our International reach. Many Turnquist agents are members of Austin's Circle of Excellence, Platinum 50 and the Elite 25, as well as other prominent groups and organizations that recognize real estate excellence.
About Rotary Club of Lake Travis
The Rotary Club of Lake Travis ("RCLT") has been around since 1991 and is part of an international service organization called Rotary International that has 1.4 million members in over 175 countries. The organization consists of local business leaders working to address various community and international humanitarian projects. The club encourages high ethical standards in all vocations, and helps build good will and peace in the world through the Ideal of Service. One of Rotary International's main efforts is the eradication of Polio world-wide through immunizations, which was started in the late 1960's and has been successful. In addition to supporting Polio eradication, the RCLT supports projects like

Scholarships for local high school students
ShelterBox – shelters for people displaced by natural disasters
Match Central Texas foster children with adoptive families
Provide support for a local free medical clinic
Help Lake Travis ISD through funding individual student financial needs
Donated $50,000 to help build the Lake Travis Community Library
For more information on the Austin, Houston, and Texas real estate market contact Turnquist Partners Realtors, Inc. a locally run real estate firm with over 25 years' experience in the Texas market -http://www.turnquistpartners.com or by phone at 512.328.3939.