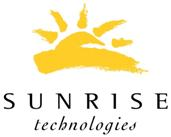 Winston-Salem, NC (PRWEB) July 31, 2014
Sunrise Technologies, the Microsoft Dynamics AX Distribution Partner of the Year, is proud to be celebrating 20 years of business this month.
John Pence established Sunrise Technologies in July of 1994 after spending several years as CIO of a major apparel manufacturing company. Sunrise began as a small consulting company implementing supply chain solutions and advanced add-on applications for companies in the manufacturing and distribution industries. With a focus on customer satisfaction, Sunrise quickly became a major player within the textile and apparel industry.
Today Sunrise is a global Microsoft Gold Partner, selling and implementing Microsoft Dynamics AX ERP, and a MicroStrategy Partner delivering their leading Business Intelligence platform to clients all over the world. With terrific employees on three continents Sunrise looks forward to implementing the great ideas of our customers for another 20 years.
About Sunrise Technologies
Since 1994, Sunrise Technologies has delivered game-changing supply chain, ERP and business intelligence solutions for fashion and home furnishing manufacturers, distributors, and retail organizations with craftsman-like quality. A global consulting network across North America, Europe, and Asia enables Sunrise to support clients of large-scale Microsoft Dynamics AX and MicroStrategy implementations anywhere they do business. For more information, visit http://www.sunriseconsult.com or call 336-722-6741.