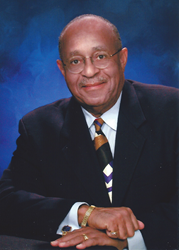 "Carroll brings a unique perspective and background to the VFC board. He is a car enthusiast with a passion for helping the less fortunate and has an extensive background in business and public relations." - Marty Schwartz, VFC President
Halethorpe, MD (PRWEB) July 31, 2014
Baltimore area nonprofit Vehicles for Change, Inc. (VFC) welcomes Carroll Hynson, Jr., president of advertising, marketing and public relations agency Image Power, Inc., to its board of directors. Hynson joins 12 others on VFC's board who help steer the organization in its mission to empower families with financial challenges to achieve economic and personal independence through car ownership and technical training.
Hynson first became involved with VFC through his role as a board member for the Community Foundation of Anne Arundel County. The Foundation provided VFC with a grant to award cars to Anne Arundel County residents and produced a video on VFC that later won a Telly award. In addition to serving on the aforementioned boards, Hynson serves on the Maryland State Park Advisory Commission and has previously served on the board for Friends of Jefferson Patterson Park & Museum. Hynson is currently a member of Corvette Annapolis and Meritocrats, Inc.
"Carroll brings a unique perspective and background to the VFC board," said Marty Schwartz, president of VFC. "He is a car enthusiast with a passion for helping the less fortunate and has an extensive background in business and public relations. We are excited to have Carroll bring his talents to our board of directors."
Currently the president of his full-service advertising, marketing, public relations and special events agency Image Power, Inc., Hynson has more than 30 years of public relations and strategic communications experience, serving in this capacity across a variety of industries. Previously, Hynson served as Deputy Director of Public Affairs for the Maryland State Lottery Agency; Director of Information and Trade Development for Baltimore/Washington International Airport and State Aviation Administration; and Director of Public Relations and Development for Provident Hospital.
"I am genuinely looking forward to being a part of Vehicles for Change," said Hynson. "My passion for automobiles will now be associated with a worthy cause."
After three years of studying sociology and political science at Pennsylvania State University, Hynson received a Bachelor of Arts degree in sociology with minors in history and psychology from Morgan State University. He was a member of the Kappa Alpha Psi Fraternity.
Please direct all media inquiries and requests to Josie Hankey at 410-420-2001 or by email at Josie(dot)Hankey(at)FallstonGroup(dot)com.
About VFC
Vehicles for Change accepts and repairs donated cars and awards them to prequalified families for as little as $750, enabling low-income families to become self-sufficient. A nonprofit organization, VFC receives 99 percent of its car donations from the public. Since 1999, VFC has awarded more than 4,700 cars to low-income families, changing the lives of more than 16,400 people. Eligible families are referred to VFC through partnering social service type agencies. VFC car donors gain a substantial tax advantage that's not available with most other charities. VFC is one of the few organizations in the country that makes it possible for donors to deduct the full fair market values of their car because their donation is awarded to a low-income family.
For additional information about Vehicles for Change, or to donate a vehicle, visit http://www.vehiclesforchange.org or call 855-820-7990. Follow the organization on Facebook at http://www.facebook.com/vehiclesforchange and Twitter @vehicles4change, and explore their official hashtag "#VFCjourney."