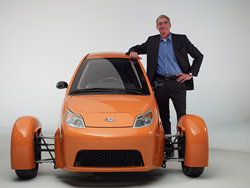 Reno, NV (PRWEB) July 31, 2014
Auto enthusiasts who love collector vehicles will get a look at a future classic from Elio Motors at the 2nd Annual Hot August Nights Auction Presented by Barrett-Jackson at the Reno-Sparks Convention Center, July 31 to Aug. 2.
Elio Motors' aerodynamically styled vehicle will get 84 MPG and sell for $6,800. The vehicle will be on display next to Dodge and between Ford and the auction arena.
"There are few better venues for sharing our industry-altering vehicle than Hot August Nights," said Paul Elio, founder and CEO of Elio Motors. "Wherever we go, people who are passionate about unique and interesting vehicles are drawn to our futuristic design. When they find out how affordable and fuel efficient it is, they are hooked."
While the aerodynamic body and unique front-to-back two-person seating give the vehicle an airplane-like feel, its design is important to the vehicle's functionality. While it is nearly as long as a traditional mid-size passenger vehicle, its body is half the width. This creates less wind drag at highway speeds, and will make the Elio one of the most fuel efficient vehicles on the road when it goes to production in 2015.
"At Elio Motors, we say the 'E' stands for everyone," Elio said. "We see this as a second vehicle for families who need the functionality of an SUV or minivan, but spend a lot of time on solo commutes during the week. But, it's also a great first option for first-time buyers, college students and anyone who owns a gas-guzzling 'clunker.'"
With gas at $4 per gallon, it costs $2,600 to drive 15,000 miles in a vehicle with average fuel efficiency. Driving the same distance in an Elio at $4 per gallon will cost just $715.
Of course, millions of vehicles on the road today get significantly lower than average fuel efficiency. There are 95 million vehicles on the road that are considered "clunkers" and get an average of 17 MPG. Most of these "clunkers" are low-cost vehicles owned by people who don't believe a new vehicle is within their price range. For these consumers, Elio Motors will be a true game changer. Instead of driving an unreliable, low-mileage vehicle, "clunker" owners will now be able to afford a new vehicle that costs four times less to operate and comes with a three-year, 36,000 mile warranty.
About Elio Motors
Founded by car enthusiast Paul Elio in 2008, Elio Motors Inc. represents a revolutionary approach to manufacturing an ultra-high-mileage vehicle. The 3-wheeled Elio is engineered to attain a highway mileage rating of 84 mpg while providing the comfort of amenities such as power windows, power door lock and air conditioning, accompanied by the safety of multiple air bags and an aerodynamic, enclosed vehicle body. Elio's first manufacturing site will be in Shreveport, La., with plans for the first production vehicle to roll off the assembly line in 2015 and significant production, sales and distribution during the next two years. For more information, visit http://www.eliomotors.com or http://www.facebook.com/ElioMotors.
About The Barrett-Jackson Auction Company
Barrett-Jackson, The World's Greatest Collector Car Auctions™, was founded in Scottsdale in 1971. Its internationally renowned auctions are hosted in Scottsdale, Arizona; Palm Beach, Florida; Reno Tahoe, Nevada and Las Vegas, Nevada. The events feature hundreds of the world's most sought-after, unique and valuable vehicles where they cross the block in front of a global audience. For more information about Barrett-Jackson, and complete event information, visit http://www.barrett-jackson.com or call (480) 421-6694. Like us on Facebook or follow us on Twitter @Barrett_Jackson.