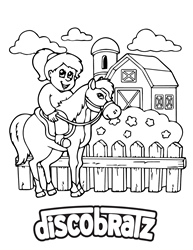 San Jose, CA (PRWEB) July 31, 2014
Horses are an amazing animal and take a lot of work and care. Riding is fun and with this coloring page, kids can explore their creativity by coloring and imagining themselves on the farm with their new pet horse! This is the latest edition of the farm series coloring book.
About DiscoBratz
DiscoBratz is the brand that promotes family products and activities that engage and enrich both children and adults. DiscoBratz strives to promote ways the entire family can have fun together, bond and connect.
About Ari Almaneih
Ari Almaneih's vision for DiscoBratz began years ago when he co-founded Studio Kicks, a successful martial arts studio. While he taught the discipline of martial arts, Ari Almaneih dreamt of a brand that would bring fun and creativity to the lives of families. Years later, his dream has become a reality with DiscoBratz, which has evolved to become an exciting and rewarding family brand.
About Susie Almaneih
Susie Almaneih spent several years during her young adulthood teaching children dance at her Church group, as well as other cultural-based activities. Susie Almaneih now spends as much time as she can giving back to the families in her community. Over the years, this love for community has evolved into a deeper love for delivering positive and creative content and awareness to families of all ages.