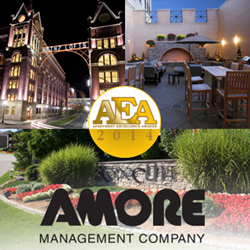 68 properties and 16 management companies were entered for judgment.
Monroeville, PA (PRWEB) July 31, 2014
The Apartment Association of Metropolitan Pittsburgh (AAMP) has once again recognized Amore Management Company for multiple Apartment Excellence Awards (AEA).
As an acknowledgement of excellence within the apartment industry, the AEA are awarded. The AEA recognize Pittsburgh rental properties that meet and exceed set criteria to be judged. Categories include Curb (exterior) appeal and Overall excellence.
Thirteen of Amore's properties were recognized through the AAMP, and was the only management company to be awarded Neighborhood Revitalization for The Brix at 26. Best of the Best, Curb Appeal, and Overall Community Appeal were also awarded to Amore's properties.
The program of awards recognizes not only the rental properties, but also the property owners, managers and staff who work hard to maintain the award-winning communities.
"I want to recognize the staff at Amore Management Company for all of their consistent and dedicated work ethic towards the various properties," said Frank Berceli, Amore Management Company General Manager. "This success and these awards would not be possible without the Amore staff."
A total of 68 properties and 16 management companies were entered for judgment.
About Amore Management Company:
Fifty years ago, Amore Management Company was established with roots in residential development and construction. Since 1969, Amore Management Company has set the highest of standards for apartment community management and resident satisfaction. Award-winning excellence in our communities is what Amore Management Company represents through expert management, carefully maintained communities, and dedication to the comfort and convenience of its residents.
###