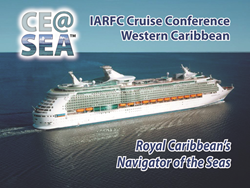 These ideas continue to motivate and inspire growth long after the CE@SEA experience is over. - Michelle Blair, RFC
Middletown, OH (PRWEB) July 31, 2014
Ports of call on this route included Roatan and Belize. In these exotic places, IARFC members and their families experienced diverse activities such as playing with monkeys, holding parrots and macaws in their hands, to floating down the Caves Branch River in Belize where headlights lit up underground waterfalls and various cave formation of stalactites. Cozumel, popular for diving and snorkeling, provided more fun and adventure with options to enjoy the water sports, private beach spots or shopping.
At this year's continuing education seminars, attendees followed a new schedule format of two half days. Jon Rogers, RFC® (Rogers Financial Group LLC, Greenville, SC) kicked off the presentations with subject matter dealing with the Emotional Quotient – which is understanding clients emotionally, in order to connect with them on a deeper level. Michelle Blair, RFC® (Design Capital Planning Group, Inc., Smithtown, NY) spoke on Managing a Professional Office and Steve Bailey, RFC®,( HB Financial Resources, LTD, Charlotte, NC) discussed Transitioning your Practice. Bailey's personal experience and advice to those in similar situations was extremely practical.
In addition, George Flack, RFC® (Flack Advisory Services Group, Victoria, Australia) and Bill Lawrence (Tax Invest Etc., Queensland, Australia) shared current legislation from "down under" and how financial practitioners have to adapt to new and uncomfortable government regulations. "In my 32 years of experience, I have never stopped learning," said Steve Stack, RFC® (Estate & Financial Services, Durham, NC.) "The CE@SEA™ always offers something new that I can apply to advance my business."
First time attendee and presenter Jack Peters, RFC® (Horter Investment Management, LLC, Cincinnati, OH) said, "The CE@SEA™ was very informative. I learned several things that I will take back and put into practice immediately."
Sights are already set on the 2015 cruising itinerary. A smaller, intimate cruise is planned for the British Isles – starting at Edinburgh, then London, through the Channel Islands, Milford Haven in Wales and Dublin. Experienced CE@SEA™ cruisers are enthusiastic and already booking.
To find out more about the 2015 schedule, contact Starr Morrow, Cruise Director for the IARFC at Starr@IARFC.org or call 423.741.8224.