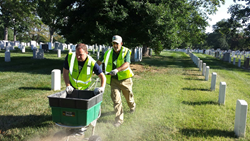 Arlington, VA (PRWEB) July 31, 2014
Spring-Green Lawn Care participated in the Renewal and Remembrance ceremony at Arlington National Cemetery on Monday. The landmark, which is a burial ground in Arlington, Virginia for more than 400,000 active duty service members, veterans and their families, welcomed hundreds of lawn care professionals from across the U.S. The event was hosted by Professional Landcare Network (PLANET), the national trade association for the landscape and lawn care industry. PLANET invited approximately 400 volunteers to participate in mulching, pruning and planting on more than 180 acres within the cemetery.
Two representatives from Spring-Green Lawn Care attended the event, Director of Education Harold Enger and Tom Warfel, a business consultant for the lawn care company. The day was especially meaningful for Warfel, who is a veteran of the U.S. Marines.
"It just means a lot for me to be able to dedicate my time and energy to such an important part of American history and to remember the sacrifice all of these people made," Warfel said.
Aside from the general lawn care maintenance, tree care experts installed lightning protection on the cemetery's historic trees, irrigation workers made repairs to the sprinkler systems and nearly 78 tons of lime was applied to the turf to keep the beauty of the landscape intact.
This year marks the 150th anniversary of the cemetery, and this is the 18th year for Renewal and Remembrance. Including this year, Spring-Green has participated in the lall of the Renewal and Remembrance ceremonies. Spring-Green CEO Ted Hofer, who has attended many of the events, said the company's regular involvement is an honor.
"It really goes beyond words when I see all of these memorials," Hofer said. "The fact that we are able to go beyond just doing lawn care and participate in something like this is really special."
###
About Spring-Green Lawn Care
Founded in 1977, Plainfield, Illinois-based Spring-Green Lawn Care has been delivering lawn and tree care services nationwide for over 37 years. Its service is centered on the beautification of residential and commercial customers in middle-class and affluent neighborhoods and communities. Spring-Green is an attractive opportunity for entrepreneurs and existing green industry business owners who want to align themselves with a franchise opportunity that has proven economic resilience, healthy profit margins, industry leading business and marketing intelligence, recurring revenue and retirement & family planning through business ownership. Spring-Green currently has 127 franchises operating in 25 states. Spring-Green Lawn Care franchise owners gave the franchise opportunity a 96 percent overall quality rating, according to the Franchise Research Institute September 2013 survey. For more information, visit http://www.springgreenfranchise.com or http://www.spring-greenfranchiseblog.com.