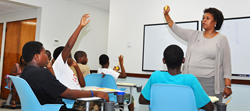 (PRWEB) July 31, 2014
The University of the Virgin Islands is adopting a nationally recognized teacher preparatory program aimed at increasing student success. UVI is developing the UVI Teach program – a secondary science, technology, engineering and mathematics (STEM) teacher training program. Adapted from the UTeach Program, UVI will be one of the pioneering HBCUs to implement this program.
The UTeach program was developed at the University of Texas, Austin, in 1997. The UVI College of Science and Mathematics has partnered with the UVI School of Education and the Virgin Islands Department of Education (VI DOE) to adapt this program to the education system in the territory.
This summer, the University of the Virgin Islands collaborated with the VI DOE, Louisiana State University and the University of Texas to host the UVI Teach Inquiry-Based Learning STEPs 1 and 2 for STEM Teachers Workshop. Fifty STEM elementary, high school and college educators in the territory attended the workshop.
Conducting the UVI STEM Teacher's Workshop was a pivotal step towards launching the UVI Teach program. Robyn Carlin, a master teacher from the GeauxTeach Program at Louisiana State University, taught inquiry-based teaching in mathematics, while Lynn Kirby, a master teacher from UTeach at Austin, taught science. They alternated teaching on UVI's St. Thomas Campus and Albert A. Sheen Campus on St. Croix, switching campuses one week into the training.
"The overall goals are to help teachers experience inquiry-based learning in action and learn to apply it in their own practices as math and science teachers," said UVI Teach Program Director Dr. Celil Ekici. "They will learn to orient UVI Teach students coming to their classroom towards learning and facilitating inquiry-based lessons as future STEM teachers." Inquiry-based learning is an approach to teaching and learning that places questions, ideas and observations of students at the center of the learning experience. Educators play an active role throughout the process by establishing a culture where ideas are respectfully challenged, tested, redefined and viewed as improvable. This moves children from a position of wondering to a position of understanding and further questioning.
The UVI Teach Program is being developed under the leadership of UVI Provost Dr. Camille McKayle, UVI Dean of the School of Education Dr. Linda Thomas and Dean of the School of Science and Mathematics Dr. Sandra Romano. Dr. Ekici is spearheading this collaborative effort. It is funded by the National Science Foundation (NSF) and is part of the Robert Noyce Capacity Building Grant designed to develop and implement a secondary STEM teacher training program at UVI. Noyce Capacity Building Projects provide an opportunity for institutions to establish the infrastructure and partnerships for implementing a future Noyce Teacher Scholarship or NSF Teaching Fellowship. This grant had two major goals. One is to develop UVI Teach as a STEM teacher preparation program building on the basics of the UTeach model. Second, is conducting STEM education research to provide research-based and locally effective STEM education training programs.
UVI Teach is integrating inquiry-based learning activities into UVI's developmental mathematics classes including, Mathematics 023 and 024 and introductory science courses such as Science 100.