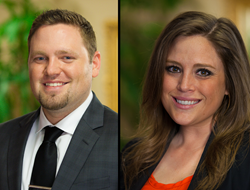 Dallas, TX (PRWEB) July 31, 2014
Mathews joined SUPERIORHIRE in July 2014, after serving as Manager at two prominent restaurants in Plano, Texas. Mathews' sincerity and passion for understanding the needs of top talent and his clients' desires enables him to stand out among his peers. His experience working directly with the public and serving a variety of personalities each week enable him to consult with candidates in different stages of their careers.
Glassanos joins Mathews in the Finance Executive Recruiting Division after working five years in the SUPERIORHIRE Staffing Division. During her years at SUPERIORHIRE, Glassanos has developed a solid network of candidates and clients that she will now be able to service on a permanent, direct hire basis.
"This new division was created to better align ourselves with the market as it pertains to candidate availability and the more positive employment outlook by companies in the north Texas area," said Lynne Stewart, President of SUPERIORHRE. "Companies have increased their hiring and added to their head count for the majority of 2014. Candidates are also feeling more confident about furthering their careers and are changing employers more frequently than last year and in 2012."
The Accounting and Finance Executive Recruiting division will focus on locating the top 20 to 25 percent of candidates in the Accounting and Finance field who have expressed an interest in changing companies, but who are still considered passive candidates. They have significant responsibilities with their current employers and would not ever think of advertising themselves on job boards and networking events; but would entertain a confidential search by a recruiter that specializes in their career field. This new division will focus on locating these candidates and work to recruit and place positions up to the Chief Financial Officer of an organization and the managers that report to that level.
About SUPERIORHIRE:
The mission of SUPERIORHIRE is to elevate the recruiting experience by developing long-lasting relationships with clients and providing them with exceptional talent and superior customer service. SUUPERIORHIRE has served the Dallas-Fort Worth market for more than 10 years. Learn more about SUPERIORHIRE at http://www.superiorhire.com.