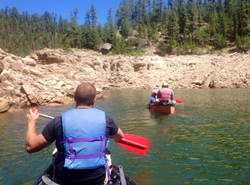 Even though I'm not at home, I'm happy to be here.
Flagstaff, AZ (PRWEB) July 31, 2014
Current residents at Back2Basics Outdoor Adventures, a long-term substance abuse treatment program in Flagstaff, AZ, learn to kayak safely for the first time and develop an understanding of equipment and paddle strokes in preparation for next week's wilderness therapy trip to the San Juan River.
"I think that [the kayaking course] teaches [residents] to listen and trust, which are two things that they struggle with in their early part of their sobriety," said Francisco Rendon, Back2Basics residential program director who also took his first kayaking class with the residents.
For many residents the biggest challenge they face in class is learning to "wet exit," which is the proper way to turn over under water if flipped upside down on a rapid.
"The hardest part of the class was learning a wet exit," said current resident Brian, who has been at Back2Basics for five days and sober for two months. "It's important to remain calm and keep a clear head when you flip over."
Rendon adds that this class goes beyond kayaking safety tips for each resident, and even for himself as a staff member, learning alongside clients."The message here is that we all go through different types of difficulties, but that we all have the ability to overcome them with perseverance."
Back2Basics is a niche long-term substance abuse treatment program that incorporates what they call Outdoor Adventures such us kayaking, white water rafting, hiking, camping, surfing, snowboarding and more, in addition to traditional therapy and counseling, domestic skill-building, dietary education and weekly culinary classes, higher education and career counseling.
"I believe that B2B pushes clients to become better people, not just overcome addiction," said Rendon. "The staff come from all types of backgrounds and this allows the residents to be exposed to different ways to solve problems."
Residents stay for six months, but most choose to stay and move on to the Beyond the Basics transition program, which further assists residents as they assimilate into day-to-day life, sober.
"Even though I'm not at home, I'm happy to be here," said Brian.