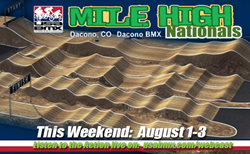 The State of Colorado has long been a hotbed for BMX Racing, and with 12 tracks located all around the state, there is a ton of talented riders who will be out to win the Mile High Nationals.
Gilbert, AZ (PRWEB) August 02, 2014
It will be fun and thrills for the entire family as one of America's largest action sports – BMX Racing – arrives in Dacono this weekend. With it will be hundreds of BMX racers and their families from all around the United States. During the 11-month long season, the USA BMX national circuit stops in 22 different states at 30 unique tracks and arenas, with Dacono being the 20th stop on the circuit. The series will see boy and girl racers and adults ranging in ages from 2 to 70-plus, compete for the weekend awards and accumulate points for National rankings and championships.
Among the many riders to keep an eye on will be Fort Collin's racer Walker Finch. 17-year-old Finch is sponsored by the Haro~Promax team who are based out of Southern California and compete in the Factory Team category. The team, easily recognizable in their yellow and black uniforms, are the reigning Champs from 2013 and are currently in contention for the USA BMX No.1 title, partly in thanks to Finch's top finishes in the 17-18 Expert class this season. Walker, who has been racing since a very young age, has previously been ranked No.1 in his Age Group, and is currently sitting No.6 in points. His age-class, 17-18x, is without a doubt the toughest class in amateur BMX racing.
The family-oriented action sport of BMX Racing has been around since the early 70's, and was born when So Cal youth began converting their Schwinn Stingrays to imitate motorcycles and held races in dirt fields. Since those early days, the sport of BMX Racing has spread Worldwide, so much so that it became an Olympic sport in 2008 with its debut at the Beijing games.
In 2012, Dacono BMX local racer David Herman qualified for the U.S. Olympic team and was able to compete at the London Olympic games. It is within this USA BMX National series that current and future Olympians, like hometown hero Herman, hone their skills for global competition.
Thanks in part to the exposure of the Olympics, along with the growth of 2nd and 3rd generations of racer's getting their kids involved in the sport they grew up in, BMX racing continues to grow in numbers and popularity with today's youth.
USA BMX racing is full of nonstop action, and the 1,100-foot long Dacono BMX track will challenge all competitors. Each race can include up to eight riders and will send them speeding down the starting hill, maneuvering and sometimes flying over dirt obstacles, zooming around banked turns in hopes of gaining a spot on the podium. On average, each race will be a 30- to 35-second sprint, with full contact, close-knit racing, and sometimes thrilling crashes and victories. BMX Racing is exciting to watch for all ages, and spectating at the Mile High Nationals is free!
*Although there may be a parking fee to support the track.
Saturday's competition will kick off with the balance bike class for 2 and under 3 and 4 year olds. At the other end of the spectrum, proving how BMX is a true family sport, are plenty of parents and even some grandparents racing in the larger-wheeled classes for 30, 40, 50 and 60+ year olds. USA BMX racing is one of the rare sporting activities where moms and dads get to compete along with their children.
The economic impact of this event will bring millions of dollars to the local economy.
MILE HIGH NATIONAL SCHEDULE:
The USA BMX Mile High Nationals will be held August 1, 2, and 3 at the Dacono BMX track, located at 113 So. Forest, Dacono, CO 80530.
FRIDAY: Action begins on Friday with practice throughout the afternoon and a pre-race at 5 p.m.
SATURDAY: Practice continues in the morning and National racing kicks off promptly at 11:30 a.m.
SUNDAY: Competition starts at 8 a.m., with the main events starting at approx. 1 p.m.
ABOUT THE DACONO BMX TRACK:
Now operated by Pro racer Deak Brown, the Dacono BMX facility continues to grow in both ridership and size of track obstacles. With such a fun and challenging track, it's no wonder that Dacono riders have experienced such success on the USA BMX National circuit. Each week, there's always something going on at the Dacono venue, with practice nights on Tuesdays, Thursdays, and Fridays, and racing competitions held every Wednesday and Saturday.
ABOUT USA BMX:
The American Bicycle Association (ABA) was formed in 1977 and is headquartered in Gilbert, Arizona. USA BMX organizes BMX racing for boys, girls, and adults throughout the United States, Canada, and Puerto Rico. With over 70,000 active members who compete on a weekly basis at over 370 racing facilities in 48 states, the Olympic sport of BMX Racing continues to grow.
USA BMX, with a 30-event national race schedule, is the largest promoter of action sports in the country.