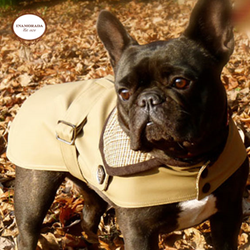 (PRWEB UK) 11 August 2014
Inamorada the Italian couture fashion house for dogs have firmly established themselves in Europe as the leading dog clothing brand, from bespoke wedding dresses to knit wear, dresses and jackets to harnesses and leads and beds and sleeping bags the brand has a product for all dog lovers. Using luxury fabrics and innovative materials Inamorada injects some style into the world of dog clothes and accessories.
The materials used are only of the highest quality and the attention to detail and the cut that allows for different dog shapes and sizes means that the dog wearing the clothing will be comfortable.
Inamorada dresses dogs from the very small to the large with designs to suit the non-standard fitting such as dachshunds, pugs, bulldogs and whippets/greyhounds.
Designed and made in Italy by carefully selected laboratories, chosen to ensure the couturier faҫon. This is why each piece is marked with a special label "all hand made in Italy", a confirmation of the Italian origin of each stage of production and is accompanied by a special and unique packaging.
Made to order customizations and numbered limited editions are the brand's prides. These range from wedding dresses to other items as requested.
Inamorada creates its collection using only the finest fabrics, such as Chanel Bouclé, English tweed and Shetland, cashmere, rubber coated and all weather resistant textiles. Particular attention is devoted to the finishing and linings of the highest quality.
A girl should be two things: classy and fabulous. This is clear in the design and style of Inamorada. The clothes range from Chanel dresses with matching bags and jumpers to merino wool and cashmere jumpers.
The boys are not left out in the collections of couture fashion. There are stunning jackets, coats and jumpers that are stylish and the very picture of gentlemanly elegance. The fine collection of timeless luxury offers coats, imitation furs, raincoats and dresses to complement the line of knitwear. Beautiful accessories such as carriers, dog sofas and harnesses, collars and leads complement the collection.
Inamorada recently launched their range of collars, harnesses and leads. They are available in a range of stunning bang on trend colors. The harnesses are stylish classic simple designs with the addition of stylish features that are the trademark of this brand.
The sleeping bags range from camouflage to reversible pink ones, to ones decorated with birds. They also produce a range of dog sofas that grace any room with style and sophistication.
The glass dog bowls are made to last and available in a range of colors.
The range of exclusive dog clothes are available through selected dog boutiques.