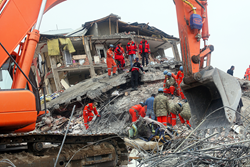 We know we can help facilitate faster response and save lives.
West Lafayette, IN (PRWEB) August 02, 2014
Emergency management experts from around the world met at Purdue University recently to debate best practices for life-saving response and recovery operations after natural or man-made catastrophes, opening the dialogue for the first time this year to include industry experts.
The setting was the 10th International Conference of the International Institute for Infrastructure Resilience and Reconstruction, known in the emergency management community as "I3R2."
This year, the National Demolition Association (NDA) contributed a new voice to the conference, promoting the value of public/private collaboration in these efforts. Thomas Stahr, Chairman of the NDA Disaster Response Committee and Mark Shaurette and Randy Rapp of Purdue's Department of Building Construction Management presented a paper entitled "First Responder/Private Industry Collaboration to Advance Disaster Response."
As part of its mission, the NDA is dedicated to collaborating with First Responders, emergency management organizations and government agencies to help improve the effectiveness of response efforts. "We're working to educate these audiences about the resources and skills possessed by demolition and disaster response companies that could be made available for widespread disaster response," said Stahr, a consultant with Environmental Resources Management (ERM). "From our work at past disaster sites, we know we can help facilitate faster response and save lives."
He and former NDA Health and Safety Committee chair Jerry Myrick, also with ERM, participated in an industry panel on best practices at I3R2. The roundtable included representatives from the Restoration Industry Association and the U.S. volunteer recovery sector. Other participating organizations in the three-day event included the U.S. Army Corps of Engineers, the Haiti Reconstruction Fund, the Center for Disease Control and Prevention, the Society of Military Engineers and the International Emergency Management Society.
"Our members have played an important role following such disasters as the 1994 Northridge and 1989 Loma Prieta California earthquakes, the attacks on 9/11, the 2010 Haiti earthquake, and the disastrous 2013 Colorado floods," said Michael R. Taylor, CAE, NDA Executive Director. "Besides possessing fleets of highly specialized equipment and attachments, most of our members have HAZWOPER-trained labor forces who are experienced working with unstable structures and disposing of hazardous materials. They also know how to move large amounts of debris with the finesse often needed in search and rescue operations."
The NDA offers First Responders and emergency management organizations and the government agencies that control them with the resources they need to identify the characteristics and capabilities of a qualified demolition contractor. "The message we're promoting is that it's important to pre-qualify supporting members of an emergency management team now, before the next disaster hits," said Stahr.
To view the resources provided by the NDA, visit http://www.demolitionassociation.com/disasterresponse.
About the National Demolition Association
The National Demolition Association is a non-profit trade organization representing approximately 800 U.S. and Canadian companies and many international firms that are involved in the demolition process. Membership includes demolition contractors, general contractors, civil engineering firms, and recycling, landfill, and architectural salvage operations. The association's efforts help members stay abreast of environmental, regulatory and safety matters, keep regulators informed about issues facing the industry, increase public and industry awareness, and provide members with networking opportunities and information on the latest technical advances in equipment and services. The website is http://www.demolitionassociation.com. Twitter: @NDAMakingWay; Facebook: Facebook.com/DemolitionAssoc.