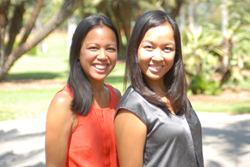 Pasadena Views agents work for 5-star reviews! They sell lifestyle and service and put smiles on clients' faces.
Pasadena, CA (PRWEB) July 31, 2014
Irina Netchaev, real estate expert and founding broker, Pasadena Views Real Estate Team Inc. is proud to announce that Leslie Bohling and Marissa Joven joined her team.
Leslie Bohling brings her entrepreneurial experience and a passion for helping others achieve their dreams. She was born in Sweden and speaks Swedish and Tagalog. Leslie is a nature lover and feels right at home in Pasadena/Altadena area. Her love of California with all it has to offer, makes her a perfect real estate agent for relocating home buyers.
Marissa Joven has an extensive background in marketing and negotiating. Her past experience includes managing advertising, marketing and social media campaigns. Recently, she has been immersed in helping home buyers and sellers with navigating the purchase and selling process. Marissa prides herself in her professionalism, negotiation and eye for detail in working with clients.
Pasadena Views Real Estate Team Inc. is a boutique real estate firm specializing in residential real estate. The company focuses on implementing the latest technology, along with old fashioned customer service and negotiation skills. "We have been very fortunate to have been recognized by our past clients via multiple 5-star reviews on Yelp and Google+. These reviews have catapulted our growth and allowed us to hire these two exceptional real estate agents to assist in servicing our existing and new real estate clients." says Netchaev.
To learn more about real estate opportunities, including a free home search, in Pasadena and Los Angeles county, please contact Irina Netchaev at 626-629-8439 and visit http://www.PasadenaViews.com for more information.