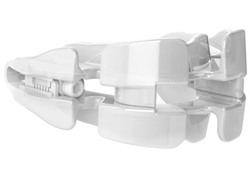 New York, NY (PRWEB) July 31, 2014
The VitalSleep anti snoring device is a mandibular advancement splint that gently moves the lower jaw forward to help open a snorers airway to quiet snoring.
Dawn M. of Utah shared how VitalSleep anti-snoring remedy helped her relationship with her husband by allowing them to share the same bedroom again.
"I am a 46 years old. My snoring began about 15 years ago and I remember nights when it was so loud that my husband and children could not sleep and had to head downstairs for any relief. As the years have gone by, it has become more and more burdensome for my husband, and he began sleeping in another bedroom of our home. This became a terrible strain on our marriage. We began to argue more and stopped speaking to each other about our day before going to bed because there wasn't time in our schedules. Since VitalSleep, that has changed. My snoring has stopped and my husband has moved back into our bedroom. We are able to connect again and neither of us feels abandoned.
Thank you for providing this wonderful product. I will continue to order and suggest it to my friends who also struggle with this problem."
Since VitalSleep also comes with a warranty that includes free replacements for 1 year, this has been helpful for users. Read the review below from Ryan in Lakeland Fl and how he achieved quieter sleep with his anti-snoring mouthpiece.
"Thank you so much for replacing my mouthpieces. To give you an idea about how they have helped me, all I can say is that after I got used to them my snoring almost completely stopped and my actual night sleep seemed much better. My wife described my mouthpiece to me in this way. Before, I wore them I kept her up at night and I sounded like what she called a "freight train." As soon as I started using them it was in her words "silence." Since wearing them, I awake much more rested after a nights sleep and right now really miss having them. Thanks so much."
Learn more how VitalSleep works by visiting http://www.vitalsleep.com.