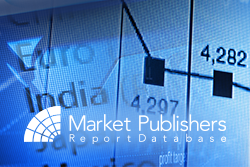 London, UK (PRWEB) August 01, 2014
Market Publishers Ltd announces that in-demand Kelly Scientific Publications research reports have been added to its catalogue.
Pharmaceutical Market India 2014-2020, Formulations, Active Pharmaceutical Ingredients (APIs), Contract Research and Manufacturing Services (CRAMS), Biosimilars, Generics & Vaccines. The key pharma industry drivers include, among others, increasing ageing population, rising incomes and growing awareness of personal hygiene. In 2015, the pharma market in India is anticipated to emerge as the 8th biggest market globally. The novel report examines the current state of the pharmaceutical market in the country and reviews the main players engaged in the market. The prevailing market trends, main industry drivers, opportunities and restraints are analyzed in the report. The market growth prospects are highlighted and market forecasts are provided in the study …
Global & USA Cancer Biomarker Market to 2018 (Identification, Technologies, Market Analysis, Competitor Profiles, Companion Diagnostic Co-Development, Business Strategies, Industry Trends, and Pipeline Analysis). Cancer biomarkers help to identify the diseases states in patients and reveal cancer at early stages. The oncology biomarkers sector is poised to follow an upward trend spurred primarily by the prevalence of cancer diseases across the world. The new study contains authoritative information on the world market for cancer biomarkers as well as presents insights into the USA pharma market. It also analyzes the key market trends and gives details on the main industry players. Moreover, the market forecasts are offered …
Pharmaceutical Industry in China - Cutting-Edge Analysis of Multinational and Chinese Pharma Companies, Industry Trends, Environment, Regulation, Market Drivers, Restraints, Opportunities & Challenges. China is one of the biggest pharmaceutical markets worldwide. The domestic pharmaceutical market is forecast to register robust growth due to the increasing population's wealth coupled with the high local demand for cheap and effective medicines. The report includes a comprehensive analysis of the pharmaceutical market in China. Besides, it offers a clear description of the competitive scenario, gives details on the key companies and reviews their products, operations and business strategy. The study presents a discussion of the regulation environment in the country. Future outlook is provided as well …
Personalized Medicine and Companion Diagnostic Market - A Strategic Analysis of Industry Trends, Technologies, Participants, and Environment. Companion diagnostic is a clinical diagnostic test linked to a drug therapy, which is important in the clinical outcome of the treatment. Personalized medicines provide such benefits, as cost-effectiveness and treatment safety, among others. The research report provides a thorough review of the global companion diagnostic and personalized medicine sector. The study grants access to the market segmentation analysis and gives valuable data on business strategies adopted by the top players. Leading firms' profiles are included in the report along with a snapshot of the market future growth opportunities …
More in-demand research studies by the publisher can be found at Kelly Scientific Publications page.