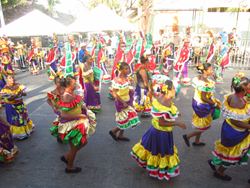 The Harare International Carnival was held from 16th to 25th of May, becoming a star event to host cultural teams from over 21 countries worldwide.
London,UK (PRWEB UK) 1 August 2014
TravelHouseUK welcomes the success of Harare's International Carnival as a new feather in the cap of the city reviving its international reputation for tourism. The agency has ranked Harare as its main tourism destination for its clients across the UK, partnering with international air carriers such as Egypt Air, KLM, Kenya Airways and Turkish Airlines.
The Harare International Carnival was held from 16th to 25th of May this year, with the Zimbabwe Tourism Authority being its main organizer for the event. The carnival route had been laid out from Tangwnna Avenue to Sam Nujoma Street, with street parties, masquerade parades, dances, festivals and theme parties being held one after the other. The event is to be regularized as an annual occurrence of the city, promoting cultural affinity and diversity for tourists visiting Harare.
The Harare International Carnival featured pop and rising singers and dancers which top the charts among popular artists in Africa. Attaining an international status, the carnival involved the participation of 21 countries with 12 of them hailing from Africa. The remaining 9 countries were from Europe and American continents. Crowd pulling events involved the street party in the city center of Harare, along with the main parade having international teams of performers following the major route from African Unity Square to Glamis Arena. The senior carnival became the contest of the international teams, along with static bands and sound systems holding live performances. A separate junior carnival involved performance teams from over 20 high schools. The carnival followed the full traditions including crowning a new carnival queen, and awarding the 3 top three performers within each category.
The Zimbabwe Tourism Authority has taken the initiative for Harare International Carnival under influence from Zimbabwe's existing Victoria Falls Carnival, as well as the boom of carnivals being regularly held in major tourism-based countries. Success of this carnival is also expected a separate Bulawayo Carnival within Zimbabwe. It is expected to influence the tourism industry as a whole for giving opportunities to resorts, hotels, restaurants as well as service facilitators to benefit from visitors, both domestic and foreign. The carnival itself would lead to direct employment for costume designers, mask manufacturers, as well as ethnic dancers and tribes for bringing forward artifacts and souvenirs for sale. An international platform would promote the diversity of cultures being provided at one location, causing visitors to repeatedly attend the annual Harare International Carnival.