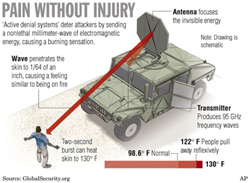 NLW provides a less-lethal alternative between the options of "Shout and Shoot."
Washington D.C. (PRWEB) August 04, 2014
According to the Non-Lethal Weapons Industry, Technologies & Global Market – 2014-2020 report, The U.S. Navy, for example, is kick-starting a new industry development for NLW for uses such as vehicles and boats, moving or dispersing crowds, and discouraging attackers or aggressive human behavior. The Office of Naval Research (ONR) covers 14 areas including:
1. Non-lethal advanced materials
2. High-power microwave technologies for counter-material missions
3. Compact active-denial technologies
4. Clear-a-space technologies
5. Human electro-muscular incapacitation technologies
6. Non-lethal directed-energy and non-directed energy-based technologies for vehicle or vessel stopping and other counter-material targets
7. Non-lethal laser-induced plasma effects at ranges further than 100 meters
8. Compact non-lethal non-pyrotechnic flash-bang technologies
9. Compact advanced multi-bang flash-bang technologies
10. Advanced non-lethal technologies that move, suppress, deny, or disable individuals and crowds through combined effects
11. Compact hail-and-warn technologies through two-way communications with ranges as far as 1,500 meters
12. Compact, low-cost non-lethal push-back and repel technologies
13. Human effects and non-lethal weapon effectiveness studies, risk assessments, and evaluations
14. Other next-generation non-lethal technologies
Another example is the multi-modal Rafael Samson Non-Lethal Weapon Station intended for all-round response for low intensity conflict violence. The vehicle allows its operators to choose from an array of integrated NLW modalities (e.g., Sound Blaster Acoustic Device, Tear/Smoke Grenade launcher, Xenon Based Dazzler, Impulse Grenade Launcher, 40mm Grenade Launcher) that can be adapted to the situation on the ground.
The Samson NL enables responders to effectively address violent situations from inside the host vehicle. Advanced, high-precision electro-optic sensors provide them with accurate, real-time situational awareness, while in-vehicle operation lets them exercise full control of the non-lethal provisions. In this way, the crew can respond accurately, with minimum civilian casualties and without incurring their own injury.
The "Non-Lethal Weapons: Industry, Technologies & Global Market - 2014-2020" report is a comprehensive study of the emerging NLW market. In this report, HSRC analysts forecast that due to accelerated CAGR of 11% from 2014-2020, the NLW market will double by 2020..
With 425 pages, 131 tables and 126 figures, the report analyzes in detail the multibillion-dollar global Non-Lethal Weapons market, industry and technology trends. The report analyzes each and every dollar of the industry's revenues and provides data and analysis on 89 submarkets including 2011-2013 submarket data and 2014-2020 forecasts and analyses. The report addresses the "money trail" via 5 viewpoints:

5 geographical regions
17 countries
2 vertical markets
4 application-technologies
Products & ammunition pricing
Explore more Homeland Security and Public Safety Reports at http://www.homelandsecurityresearch.com/reports/.
About Homeland Security Research Corp.(HSRC)
HSRC is a Washington, D.C. based international market research and strategic consulting firm serving the Homeland Security and Public Safety communities. HSRC provides premium market, present & emerging technologies and industry expertise, enabling our global clients to gain critical insight into the business opportunities that exist within the Homeland Security & Public Safety markets. Government clients include the U.S Congress, DHS, U.S Army, U.S Navy, NATO, U.K, Japan, Korea, Taiwan, Israel, Canada, Germany, Australia, Sweden, Finland, and Singapore; DOD, DOT, GAO, and the EU are among others. HSRC serves over 650 private sector clients, including all major defense and security contractors and many Fortune 500 companies. 70% of our reports are acquired by repeat customers.