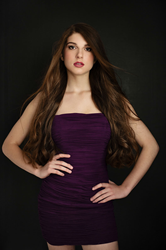 "I want to show current and past abuse victims they can overcome chains that bind them, and help others realize it is never too late for a new beginning." - Megan Rockey
Vienna, VA (PRWEB) August 01, 2014
Imagine discovering that your mother—the woman who single-handedly raised you and cared for you without the help of anyone else; the one person who assumed the role of mother, father, mentor, and closest confidant—had herself endured an unbearably painful childhood plagued with physical, emotional, and sexual abuse at the hands of her own trusted family members. Imagine that you're faced with the weight of this knowledge just as you yourself are transitioning into young adulthood at the age of 12.
For Megan Rockey, this true story of unraveling the darkest depths of destruction became a triumphant lesson in survival—and thriving.
The now 17-year-old's long-awaited first novel, Phantom, is a fast-paced, action-adventure whose underlying theme is that abuse victims can overcome the chains that bind them, that it's never too late for a new beginning. Told in a her own unique, powerful voice, Rockey spins a story that was born of her and her mother's painful struggle, focusing on the inner strife of maintaining one's sanity, and the undefeatable determination to stay true to one's morals.
Phantom begins with the once ordinary life of sixteen-year-old Michael, whose world is dramatically changed when he witnesses Raven, an assassin, murder a reporter. Michael is kidnapped, and upon awaking up in a cellar, cannot recall where he came from and, more importantly, who he is.
Moments after his awakening, he is forced to participate in a duel against Raven to prove to Eliza, the director of the cosmopolitan and renowned assassin organization, Zero, that he would be useful as an assassin. After winning the duel, he is spared and reluctantly accepts his new life. Desperate to escape the assassin world, Michael teams with Raven to destroy Zero and find their real identities in hopes of returning to a normal life, but Michael faces two choices: run from Zero and eventually be killed, or destroy Zero and kill the assassins before they kill him first.
Meet Michael on August 1, 2014, when Phantom is available in wide distribution. Phantom is part one of the Phantom trilogy by Megan Rockey. See the "Phantom" book trailer at http://www.MeganRockey.com