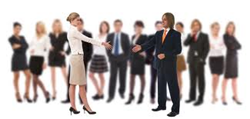 Miami, FL (PRWEB) July 31, 2014
LiveRes (http://www.Live-Resume.com), a website that allows employers and qualified job seekers to connect instantly by using the best technology and social media combined.
LiveRes is off to the next city in their nationwide tour heading to San Francisco, CA on September 18th. Having reached thousands of people at the last expo in New York City, the number of people interacting and utilizing the site has grown significantly and it continues to build itself as the importance of video resumes and instant access provides an undeniably effective platform.
In addition to the nationwide Small Business Expo tour, LiveRes continues to expand their website team by adding Melinda Jules as their Social Media Strategist.
"Melinda brings to our team a tremendous amount of experience in the field of writing for social media. Her knowledge, energy and enthusiasm will help further our company's outreach as we continue to expand," says Matthew DeRose, Managing Member / Co-founder.
LiveRes has also teamed up with several outside affiliates in an attempt to help put US Military Veterans back to work. In the upcoming months LiveRes will introduce some additional features designed to highlight the many talents and skills of thousands of military veterans that are often overlooked by employers. This is something that will truly impact the way veterans seek employment before and after they have been discharged.
One of the best features on the website is the Employers Bulletin Board. This board puts everything in one location giving employers the opportunity to view potential employee profiles and interact with them within minutes of having been notified of their qualifications. Employers can send a request to these applicants to connect or conduct an online interview with them. And if the applicant is currently online, they can send them an instant message or do a video chat.
This is a game changer and this tackles one of the biggest issues currently plaguing other job search engines.
In addition, all registered users can create and customize their very own Public Board. The Public Board gives users the ability to upload pictures and video, show examples of projects, or demonstrate things that have been created within the field of the job one might be looking for or looking to fill.
"We will continue to flourish as we are very excited about the additional features we currently have in development as well as the many upcoming features we will be working on in the near future" says Kevin B. Casas, Senior Web Developer.
If you are in the bay area and would like to come out and see what all the fuss is about, registration is free and you can sign up here (Small Business Expo San Francisco.) Make sure to stop by booth #243 and let
LiveRes show you how to transform your resume or business presence online to achieve maximum value.
Thousands of individuals and businesses nationwide use LiveRes.
To find out how LiveRes can help connect you and your future, visit: http://www.live-resume.com; and to learn how to become an investor, contact: admin(at)live-resume(dot)com.