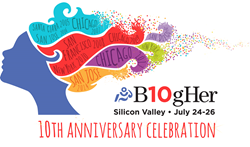 We want to celebrate every attendee who joined the conversation this year, representing our community and network of publishers who reach an audience of 100 million each month.
Belmont, CA (PRWEB) July 31, 2014
This year, BlogHer, Inc., the premium cross-platform media network and publisher for women, brought its tenth anniversary celebration conference home to Silicon Valley, taking over the San Jose Convention Center from July 24-26. Two hundred speakers and more than 100 sponsoring brands joined 2,500 influencers for three days of networking, high-profile keynote sessions, cutting-edge conversation, and celebration of ten years of the BlogHer community.
The City of San Jose disclosed the tremendous value BlogHer brought the local economy, selling 3,200 hotel rooms and generating an additional $2.3 million dollars for the local economy. In addition, BlogHer touted its economic impact on its community, also known as "the BlogHer Economy." Over the past five years, BlogHer has paid $36 million to nearly 6,000 members of the BlogHer community for their work.
"We want to celebrate every attendee who joined the conversation this year, representing our community and network of publishers who reach an audience of 100 million each month. Their breadth and influence make BlogHer the perfect place to gain visibility and exposure," said Elisa Camahort Page, Jory Des Jardins, and Lisa Stone, BlogHer co-founders. "We all owe a debt of gratitude to our Diamond Partner, Skype, as well as our other lead sponsors, Hairfinity, McDonald's, The Mrs., Bridgestone, Count Us, Know Us, Join Us, Lysol and Pets Add Life, who joined 100 other sponsors to create a fantastic event that was affordable for our audience of independent publishers and small business owners."
New Products and Initiatives Launch at BlogHer
These key initiatives were among the many launched at BlogHer '14:

BlogHer, in partnership with the Huffington Post and Center for American Progress, held a media briefing featuring Huffington Post CEO Arianna Huffington and BlogHer Editor-in-Chief Stacy Morrison to unveil the Make Life Work campaign, an initiative that intends to promote realistic solutions to help today's working families manage the radical shifts in the American household
Platinum conference sponsor The Mrs. Band launched their new single "I'm Enough" as part of the Saturday lunch keynote, while Disney premiered "The 100-Foot Journey" to an invited audience on Friday evening
Keurig introduced a new coffee maker that will make carafes of coffee, vs. single-servings, as part of an intimate influencer breakfast event
The City of San Jose held a press conference onsite to thank BlogHer '14 for being the first major event to hit the San Jose Convention Center since they launched their "Wickedly Fast Free WIFI" at the center
High-Profile Keynote Conversations Happen at BlogHer
This year's keynotes included:

Kerry Washington, actor, activist, and style icon, spoke with blogger and author Demetria Lucas, aka A Belle in Brooklyn, teasing the audience with the "Scandal" spoilers she could not divulge
Guy Kawasaki, author and tech evangelist, interviewed Arianna Huffington, Huffington Post chair, president, and editor-in-chief
Journalist Kara Swisher, CEO and co-founder of Re/code, interviewed Melissa Barnes, head of global brands for Twitter, and Re/code reporter Nellie Bowles interviewed Richelle Parham, CMO of eBay North America
Jenny Lawson, blogger and New York Times best-selling author (aka "The Bloggess") opened the conference with her unique brand of humor
Tig Notaro, Grammy®-nominated comedian, performed a 15-minute comedy set, followed by a Q&A
Other BlogHer '14 Highlights
First-time sponsor Hairfinity hosted popular activities throughout the show, including a visit from Khloe Kardashian
The Voices of the Year Community Keynote continued for its seventh year, featuring 12 powerful posts written in the past year, read by their authors.
BlogHer '14 concluded with an epic party, hosted by BlogHer and longtime partner McDonald's, returning for its sixth year as sponsor, and featuring a performance from Rock and Roll Hall of Famer Rev Run, from Run-D.M.C.!
About BlogHer:
BlogHer (http://www.blogher.com) is the leading cross-platform media network created by, for and with women in social media. BlogHer delivers quality advocacy at scale for brands seeking to engage in authentic and persuasive dialogue with moderated communities led by more than 3,000 quality bloggers and 12,500+ engaging, original voices in social media, reaching an audience of 100 million across premium blogs, Pinterest™, Facebook®, and Twitter™. Founded in February 2005 by Elisa Camahort Page, Jory Des Jardins, and Lisa Stone, BlogHer publishes and syndicates news, information, advice, recommendations and research on women in social media across interest areas as well as on BlogHer.com. The company also hosts the world's largest conferences for women in social media.