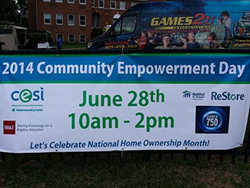 By working together as a team, CESI and our fellow local organizations were able to provide homeownership education and a day of food, fun and fellowship for the community.
Raleigh, NC (PRWEB) July 31, 2014
At St. Augustine's University, Consumer Education Services, Inc. and several local businesses contributed to bringing about the success of Community Empowerment Day, a family-friendly event which provides homeownership education to the community. Home Depot, Dress for Success and the Democracy of North Carolina were among several local organizations to attend the event, raising their banners in support of public awareness. Members of the surrounding community, including the president of St. Augustine's University, attended the event and benefited from participating in workshops designed specifically to educate the public on homeownership preparation and how to sustain a home.
"As community organizations, we worked together to provide homeownership awareness to the public," says Sheryl Merritt, CESI's Housing Program Manager. "By co-sponsoring Community Empowerment Day with Habitat for Humanity of Wake County, we were able to complement each other with our respective services."
During the event, locals were introduced to the Community Partners Loan Pool (CPLP) program offered by CESI, a program made available through North Carolina's Housing Finance Agency to help income-qualifying households purchase affordable homes in North Carolina. Through a partnership with nonprofit and local government housing organizations, the CPLP offers a deferred, zero-percent interest second mortgage that can reduce a monthly mortgage payment by up to 15%.
Habitat of Humanity's affordable housing development services work in tandem with CESI's homeownership programs, including the CPLP program, making purchasing a home easier and more affordable for North Carolinians. Homeownership workshops are available each month to continue educating the community on local resources and programs available to them through CESI's housing counseling division.
"By working together as a team," says Merritt, "CESI and our fellow local organizations were able to provide homeownership education and a day of food, fun and fellowship for the community."
To learn more about CESI's Housing Counseling Services or to request information regarding our monthly homeownership workshops, please visit the Homeownership Center.
CESI is a non-profit organization that helps consumers achieve financial freedom by offering a complete life cycle of services: debt management, student loan counseling, housing counseling, credit counseling, financial education, benefits counseling and services for employees, caregivers, and other support groups. For more information, please visit http://www.CESISolutions.org or call 1-855-716-2451.