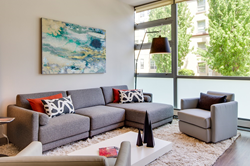 Real estate is cyclical and we've circled back to a place when savvy consumers are preferring to own as mortgage payments can be less than a lease payment.
Seattle, WA (PRWEB) July 31, 2014
Realogics Sotheby's International Realty (http://www.RSIR.com), the Pacific Northwest's largest affiliate for the global real estate network, announced today the closing of four of eight pending sales at Carbon 56 – a 56-unit condominium development that was converted into a condo/apartment hybrid when the in-city housing market corrected in 2008. The closings signal a turnaround in the in-city housing market for the once-stalled condominium project and its return as a condominium. Before the housing market downturn, 36 of the 56 homes were closed but unsold homes were converted to apartment housing for lease.
"Our success at Carbon 56 simply evidences the compelling value that is offered within an ownership structure versus the alternative of renting," says Carrie DeBuys, the listing broker with Realogics Sotheby's International Realty. "Real estate is cyclical and we've circled back to a place when savvy consumers are preferring to own as mortgage payments can be less than a lease payment."
DeBuys points to attractive price points ranging from $329,500 to $529,500 combined with low mortgage interest rates and income tax deductions compared to the high lease rates in downtown Seattle as a game changer. According to analysis by David Korch of Union Bank the average home of 667 square feet at Carbon 56 can be purchased with $32,950 down payment and boasts a monthly mortgage payment of $1,995 including principal, interest, taxes, insurance and home owners association dues; purchase mortgage insurance not required (based on 4.5% with 4.625% APR). This compares to a rental payment, which in downtown Seattle can range from $3.00 - $4.00 per square foot per month. That means similar sized homes can range in monthly housing cost from $2,229 to $2,668 with no tax benefits. When factoring in the tax deduction and considering the propensity for capital appreciation, renters are increasingly becoming homebuyers. Meanwhile downtown Seattle condo values have been rising at least 5% annually to a new median home price of $454,500 for the first half of 2014 over the prior year. For the same period closed sales increased 19% while average days on market decreased 11%, a result of rising demand and anemic inventory.
Observers say consumers are most affected by homes priced below $500,000, which witnessed an absorption increase of 30% year-over-year in part because this more affordable price point is the most difficult to supply in new construction and even new construction developments offering presales are effectively sold out of this more affordable market segment. Many new recruits to the region, most notably tech workers are employment engines like Amazon.com, have elected to rent for a year or two while they become more confident in their job, save up for a down payment and generally confirm their commitment to living longer term in Seattle.
"I can understand a new recruit choosing to rent before setting roots given past concern about market values and a desire to stay flexible," adds DeBuys. "But the market has rebounded and prices are rising. At some point new residents resist rent increases, the lack of income tax deductibility and desire to define their domain. Fortunately, these dynamics point in our direction."
For more information visit http://www.Carbon56.com.
About Realogics Sotheby's International Realty (http://www.RSIR.com) - Artfully uniting extraordinary homes with extraordinary lives Realogics Sotheby's International Realty is a leading global sales and marketing brokerage firm in the Pacific Northwest and the top-selling real estate office in downtown Seattle, according to Trendgraphix. Recognized by the Puget Sound Business Journal amongst the fastest-growing private companies in Washington State for 2012 and 2013, the boutique real estate firm of 100+ brokers and employees consistently ranks among the top producing firms within the markets that it serves with branches in downtown Seattle, Bainbridge Island, Kirkland and coming soon to Issaquah.
EDITORS NOTES: For high-resolution photography contact Andrea Savage at 206.448.5752 or email Andrea.Savage(at)SothebysRealty(dot)com.