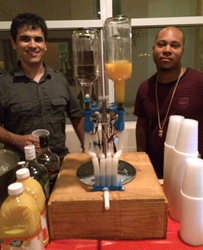 With almost no moving parts, the machine is nearly unbreakable.
Portland, OR (PRWEB) August 01, 2014
Today, Rick Valdez (RickValdez.com) announces the Butler3000 bartending robot. Walk up to the Butler3000 and select a beverage with a tablet or smartphone. A web-enabled interface controls the ability to select a drink from any web browser. Every person at a party is can be a personal bartender. The drink is mixed perfectly every time.
The four-bottle Butler3000 dispenses 16 unique beverage combinations. For example, add a bottle of vodka, cranberry juice, iced tea, and lemonade. With a push of a button, make an Arnold Palmer, a Cape Cod, or a Lemon Drop. Add a splash of vodka to an Arnold Palmer and make a Dirty Golfer. All measurements exact and configurable through the web interface.
"People gather around the Butler3000 at a party just to play with the machine. The machine has been used at events with real bartenders, and the bartenders are bored. Guests would rather choose from over a dozen cocktails to pour their own perfectly-measured beverage," says Rick Valdez, designer of the machine.
The Butler3000 features a streamlined design meant for industrial use and easy cleaning. The Butler3000 uses gravity, not pumps to pour and measure. With almost no moving parts, the machine is nearly unbreakable. There are no buttons or controls on the machine. A waterproof Red Oak wood base protects the computer and electronics. The tubing is easily removed and cleaned with soapy water. The Butler3000 was designed by a bartender for bartenders.
The Butler3000 is built-to-order and comes with a 5-year guarantee. As a special offer, the first 100 machines are listed for $799. The first 100 Butler3000 machines are limited editions signed by the designer.
"The custom-build Butler3000 will be a centerpiece for any restaurant, fraternity house, party, or man-cave. Keg taps are out and custom cocktails are in. These beautiful hand-crafted machines are built for each order. A work of functional art that will last for years," says Mr. Valdez.
Investors are actively being sought to ensure the Butler3000 is the de facto standard in bartending robots. Contact Rick Valdez for investor relations.
###
About Rick Valdez
Rick Valdez has nearly 10 years advertising experience with Crispin Porter + Bogusky. Mr. Valdez campaigned for Commissioner of Hollywood, FL and was on the ballot with Barack Obama and Mitt Romney. Today, Mr. Valdez is launching a series of Internet appliances with the Butler3000 being the flagship product.
Media and investors please contact Rick Valdez at 786-202-5063.