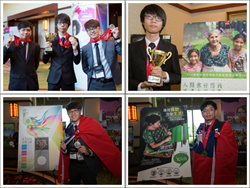 Anaheim, CA (PRWEB) July 31, 2014
Certiport (http://www.certiport.com), a Pearson VUE business, the leading test delivery solution provider for the global workforce and academic markets, today announces the 2014 Adobe Certified Associate (ACA) World Champions, culminating the annual competition designed to showcase digital communications skills and promote industry certification. Cheong Wai Hang from Macau won the top prize over 32 finalists from 16 countries.
The 2014 ACA World Champions are:

Cheong Wai Hang, Macau, first place
Kao Jui-Hung, Taiwan, second place
Lin Siou-Yuan, Taiwan, third place
Certiport and Adobe sponsored the ACA World Championship and Kiva.org served as the client for student entries in Anaheim, CA from July 27-30, 2014. Kiva is a non-profit organization with a mission to connect people through lending to alleviate poverty. The second annual ACA World Championship attracted more than 60,000 competitors in total.
"Participation in the Adobe Certified Associate World Championship doubled in its second year, proving there is a great demand for a digital skills competition worldwide," said Bob Whelan, president and chief executive officer for Pearson VUE. "Students are realizing the power of earning Adobe Certified Associate certification to validate in-demand digital design skills. Cheong should be proud to be named as the top competitor and we know the accomplishment will boost his marketability even further."
During the Championship Round, contestants were assigned a poster design challenge from Kiva to which they responded using Adobe Photoshop CC, Adobe Illustrator CC and Adobe InDesign CC software. Students were judged on their creative and technical skills, as well as their ability to take and follow instructions and communication from the client, and implement Kiva's vision and message.
"The final Kiva poster entries were extremely creative and of high technical quality – we were impressed with the creativity of the student competitors," said Adam Farmer, visual designer for Kiva. "In meeting the finalists and judging the projects we could tell these students take pride in their craft and have a strong understanding of how to use Adobe tools at a very young age. We look forward to using the winning entries to promote our mission to connect people through lending to alleviate poverty around the world."
An impressive panel of judges from the design industry reviewed contestant designs. The first, second and third place winners were selected based on design score, and were awarded scholarship money, Adobe software, and computer hardware prizes.
"Seeing so many young people around the world get excited about using Adobe software and earning ACA certification is the best part of the ACA World Championship," said Melissa Jones, world wide education program manager for Adobe. "We congratulate Cheong and the other finalists and look forward to watching their future success. Adobe is also thrilled to partner with Kiva to provide a real-world context for this competition while supporting a great cause."
Next year, Certiport will host the 2015 Adobe Certified Associate World Championship in Dallas, Texas. Download high-resolution photos of the event and winners at https://www.flickr.com/photos/certiport/sets/72157646014561952/. View video interviews with the winners at http://www.youtube.com/certiportcomms. The hashtag for the event is #ACAWC.
About Certiport
Certiport, a Pearson VUE business, is the leading provider of certification exam development, delivery and program management services delivered through an expansive network of over 12,000 Certiport Authorized Testing Centers worldwide. Certiport manages a sophisticated portfolio of leading certification programs including: the official Microsoft Office Specialist certification program, the Microsoft Technology Associate certification program, the Microsoft Certified Educator program, the Adobe® Certified Associate certification program, the HP Accredited Technical Associate, the CompTIA Strata™ IT Fundamentals, the Autodesk Certified User certification program, the Intuit QuickBooks Certified User certification program, and the IC3 Digital Literacy certification. Certiport reliably delivers over three million tests each year throughout the secondary, post-secondary, workforce, and corporate technology markets in more than 148 countries and 27 languages worldwide. For more information, please visit http://www.certiport.com or follow Certiport on Twitter at http://www.twitter.com/certiport.
"Certiport," "IC3" and "MeasureUp" are registered trademarks of Certiport, Inc. in the United States and other countries. The names of actual companies and products mentioned herein may be the trademarks of their respective owners.