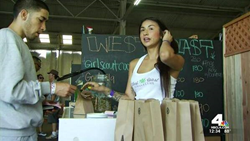 Los Angeles, CA (PRWEB) August 04, 2014
Following the success and international media attention surrounding the Marijuana Heritage Farmer's Market over the July 4th weekend, an L.A. County Superior Court judge recently agreed to temporarily shut down the event and grant a restraining order against the event organizers. The organizers desire to work with the city to reach a solution to allow the farmers market to reopen in compliance with City law. They point out the lack of clear regulation of California's $1.3 billion dollar medical marijuana industry as the underlying problem.
"While we understand and respect the city's concerns, the Marijuana Farmer's Market is only accessible to qualified patients who are using cannabis to treat medical conditions including epilepsy, cancer, HIV, phantom limb pain and PTSD for disabled veterans. The market is no different from a dispensary in that it serves as a collective where patients can safely access the products," said the organizers' attorney David Welch.
The organizers of the event have invited internationally recognized experts on marijuana regulation to join them for a press conference on Tuesday August 5th at 1500 Esperanza St., Los Angeles, CA 90023 to discuss the pending court case, future plans for the Heritage Farmer's Market, and the need for statewide regulation. The organizers believe they can work with the city attorney's office to reach a mutual resolution in accordance with the law.
"Almost twenty years ago California was the first state in allowing for the medical use of marijuana, since then however the state has failed to comprehensively regulate this billion dollar industry leaving patients and law-abiding business people guessing at what the rules are," said Cheryl Shuman C.E.O. of the PR and consulting firm Echelon Cannabis and founder of the Beverly Hills Cannabis Club. Ms. Shuman was featured on this week's cover of Adweek as "Pot's First Marketer" http://www.adweek.com/news/advertising-branding/who-will-become-starbucks-pot-159145
Where: California Heritage Market, 1500 Esperanza St., Los Angeles, CA 90023
When: Tuesday, August 5, 2014 at 10 a.m.
Who: California Heritage Market Organizers, Legal Representatives, Patients and Activists
Contact: Cheryl Shuman, Cheryl@CherylShuman.com - Phone: 310.779.4797
###
Past Media Coverage:
Facebook: https://www.facebook.com/CaliforniaHeritageMarket
ABC TV News: http://abcnews.go.com/International/las-marijuana-farmers-market-opens-today/story?id=24428970
ABC TV News: http://abc7.com/news/las-1st-pot-farmers-market-opens-up-shop/158072/
NBC TV News: http://www.nbcchicago.com/news/health/Medical-Marijuana-Farmers-Market-Attracts-Long-Lines-on-Fourth-of-July-265845921.html
LA Times: latimes.com/local/la-me-0706-pot-farmers-market-2-20140706-story.html
Hollywood Reporter: hollywoodreporter.com/news/la-marijuana-farmers-market-draws-717036
New York Daily News: nydailynews.com/news/national/big-hit-s-first-ever-marijuana-farmers-market-draws-thousands-article-1.1857409
Telemundo: telemundo52.com/noticias/Exito-del-1r-mercado-de-marihuana-legalizacion-los-angeles-aire-libre-salud-266015881.html
LAist: laist.com/2014/07/07/medical_marijuana_farmers_market_dr.php
Breitbart News: breitbart.com/Breitbart-California/2014/07/04/Celebrating-America-s-Birthday-at-the-World-s-First-Marijuana-Farmers-Market