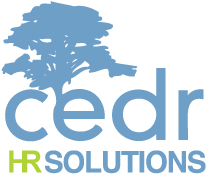 Last year's GNYDM conference attracted over 54,000 attendees from 50 states and 131 countries, including over 19,000 dentists... CEDR CEO, Paul Edwards, will be speaking at this event.
Tucson, Arizona (PRWEB) August 02, 2014
CEDR HR Solutions, a Nuanced Media client and the nation's number one provider of customized medical and dental employee handbooks, has announced that it will attend two major dental-industry conferences this fall. CEDR's CEO will be featured as a speaker at both events, held in September and early December.
From September 4-6, CEDR will attend the 10th annual American Association of Dental Office Managers (AADOM) Dental Managers Conference in San Diego, to be held at the Hilton San Diego Bayfront. This will mark CEDR's third attendance at the recurring AADOM event, the nation's largest gathering of dental office managers and practice administrators. CEDR is both a Summit Sponsor and AADOM's Official HR Partner.
CEDR's CEO and Co-Founder Paul Edwards, a well-known presenter on practice management and risk mitigation topics at industry conferences and CE courses across the country, will conduct both a three-hour pre-conference talk and a mini-keynote speech. Edwards has over 25 years of management experience.
The pre-conference session, "HR Intensive: Not for the Faint of Heart" will take place on September 3 from 6 - 8:30 p.m. It will include an interactive discussion about human resources and the vital role it plays in every practice. Experienced office managers and doctors are encouraged to attend, as the session will discuss preventing and solving common employee and HR issues, techniques for stronger hiring, and how to avoid regulatory landmines that lead to vulnerability if the practice ever faces an investigation or employment lawsuit.
Edwards will also present a mini-keynote address on September 4 at 4:15 p.m., entitled "HR Your Way." During this session, he will discuss what it takes to be a "Class Act" manager, techniques for improving communication and management strategies, and how any manager can take their own skills and their team to the next level.
AADOM conference attendees can also visit CEDR at Booth 3214 throughout the event. Company representatives will provide free access to employer training and information, special discount offers, and more.
Later in the year, CEDR HR Solutions will be attending the well-known Greater New York Dental Meeting (GNYDM), held from November 28 through December 3 at the Jacob K. Javits Convention Center. Last year's conference attracted over 54,000 attendees from 50 states and 131 countries, including over 19,000 dentists. This is CEDR's first attendance at the GNYDM.
CEDR CEO Paul Edwards will also be speaking at this event. From 9 a.m. to noon on December 1, Edwards will give a presentation entitled "Turning Mountains into Molehills: Conquering Your Biggest Management Obstacles." This talk will address issues dentists and their managers must overcome on a daily basis, while balancing the needs of the team, the practice, and their own peace of mind. Attendees will learn critical hiring, firing, and management strategies, along with strategies for more effectively responding to workplace issues.
As at all CEDR seminars, attendees will also learn how to identify roughly 20 employee handbook policies in use by many practices which are high-risk and not legally enforceable, and how to correct them and better protect the business.
For more information about CEDR's upcoming schedule of medical and dental industry events, CE courses, and employer education webinars, please visit http://www.cedrsolutions.com/why-cedr/calendar.
About CEDR HR Solutions
CEDR HR Solutions is the nation's #1 provider of individually customized employee handbooks and unlimited, on-demand HR support for medical and dental offices of all sizes and specialties. Other product offerings include risk management, Associate Doctor Agreements, Hygienist Agreements, and HIPAA compliance training. Founded in 2006, CEDR's team is composed of employment law experts, including lawyers, researchers, and HR professionals.
About Nuanced Media
Nuanced Media is a digital marketing agency, specializing in strategic, multilayer marketing campaigns and efficiently crafted, user-friendly websites. Based in Tucson, the company has a variety of clients throughout Arizona, California, and Texas.