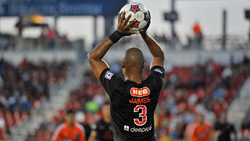 '...Going into this weekend we're concentrating on further developing our game and focused on leaving with a positive result.' - Scorpions Coach Alen Marcina
New York, NY (PRWEB) July 31, 2014
San Antonio Scorpions look to continue their amazing run of play and extend their lead in the North American Soccer League (NASL) #Fight4Fall. Scorpions are also looking to add to their NASL modern-era record road undefeated streak (6-0-0) when they visit FC Edmonton at Clarke Stadium, wrapping up Week 4 encounters on Sunday, August 3, at 2 p.m. MT (4 p.m. ET).
Soccer fans can tune in to NASLlive.com to watch all five matches this weekend in Edmonton, Fort Lauderdale, Indy, Minnesota and New York.
The Scorpions lead the head-to-head series against the Eddies - who are currently sitting eight in the Fall table - and have secured all twelve available points thus far in the Fall campaign.
"Sunday will be our stiffest test of the Fall Season," said FC Edmonton coach Colin Miller, whose team has held the Scorpions to just three goals in four matches in Canada. "San Antonio are on a fantastic run home and away with scores that are the envy of most teams in the league. If we can build on the attacking performance from Sunday and hit the inside of the woodwork for a change, we'll be off to a good start."
Scorpions coach Alen Marcina, whose club's strong defense have not allowed a goal in their last 303 minutes this Fall Season, commented on its upcoming matchup against the Eddies: "As their record shows, Edmonton have a stingy defense that does not concede many goals and they are always a very difficult road game due to their physicality and discipline. But going into this weekend we're concentrating on further developing our game and focused on leaving with a positive result."
NASL Fall Week 4 action kicks off Saturday afternoon (August 2) when Spring Champion Minnesota United FC will look to continue its six-match unbeaten streak as they greet Ottawa Fury FC at Minneapolis' TCF Bank Stadium at 4:30 p.m. CT (5:30 p.m. ET). The match is part of a doubleheader that and will follow the Manchester City vs. Olympiacos F.C. international friendly.
United, who also has an impressive seven-game unbeaten streak, is coming off a 1-1 draw against host Atlanta Silverbacks last week, while Fury FC dropped a 3-0 encounter on the road to Carolina RailHawks.
"We got a point on the road which isn't always easy in this league," said United coach Manny Lagos. "So, I think the game will pose some challenges, partly because it's a semi-road game for us too. It's an earlier start time which is not at our normal stadium, which is like I said the field dimensions are going to be a challenging aspect, but again, I think we embrace that challenge and really try to go at those problems like we have all year I think we'll do well."
This will be the first encounter between the two sides in Minnesota, with United having earned a 2-1 win during their last meeting in Ottawa during the Spring Season Opener, last April.
"We know that Minnesota is always a difficult place to play, but we also know what we are capable of," said Fury FC coach Marc Dos Santos. "Our last few games have been difficult, but we are working hard to get back to our principles. Our group is ready and will go to Minnesota with great ambitions."
The Fall Week 4 action continues on Saturday when last year's Soccer Bowl champion, New York Cosmos, host Carolina RailHawks at Hofstra University's James M. Shuart Stadium at 7 p.m. ET.
Carolina has won two of the three encounters against the Cosmos, including a 1-0 win this past Spring at WakeMed Soccer Park. The last time the RailHawks visited New York, the Cosmos won 4-0 during the 2013 Fall Season.
"This Saturday we are beginning a very challenging part of our schedule as we play three games in eight days," said Cosmos coach Giovanni Savarese. "The depth of our squad will be tested and we'll need every player to be ready to contribute to face Carolina, a talented team that is right behind us in the standings."
Continuing Week 4 action, Indy Eleven returns home to attempt to give their loyal, record-setting fans their first home league victory. Indy Is set to take on Atlanta Silverbacks at IUPUI's Michael A. Carroll Stadium in the NASL's 'Game of the Week' on ESPN3 at 7:30 p.m. ET.
The Indy club has hit the ground running this Fall Season, winning their last two matches and moving into third place in the standings, trailing Minnesota by a single point for second.
This is the first time Atlanta will be visiting Indy, as the team's last encounter was on Silverback territory where they faced off this past June in the Spring Season Finale, ended in a 3-3 draw.
"Indy is obviously a team that is on the upswing, so we can't take the game lightly by any means," said Silverbacks coach Jason Smith. "I'm still more concerned about our team and improving some of the issues that we need to address. I like where we're at right now, but I feel like we need to make positive steps forward each week. We understand, though, that going up to Indianapolis is going to be a challenge."
The annual Florida Derby is back and will close out Saturday's NASL Week 4 encounters. Fort Lauderdale Strikers welcome Tampa Bay Rowdies at Lockhart Stadium at 7:30 p.m. ET.
The clubs are, as always, playing for the Coastal Cup, which is awarded to the winner of the Derby. This is the second of three matches in the 2014 Florida Derby series, with the Rowdies winning the first match 3-2 this past Spring at Al Lang Stadium. The Rowdies have won the four Coastal Cups competed for during the NASL's modern era.
"We don't have the same kind of dominance against the Strikers in Fort Lauderdale as we have at home in St. Petersburg," said Rowdies coach Ricky Hill. "Lockhart Stadium has a beautiful pitch and it's a beautiful environment to play in. We've always had open games against them.
"The Strikers, irrespective of their current form or their past record against us, they're always a handful. Our games against the Strikers are always fiercely contested, so I hope we execute well as a team."
Soccer fans around the world will also be able to 'Watch Every Match Live' - all 90 NASL matches -- throughout the 2014 North American Soccer League season, including all the Week 4 matches on NASLLive.com.
NASL Fall Season Week 4 Schedule­ (All kickoff times US EST)
Saturday, August 2
Minnesota United FC vs. Ottawa Fury FC
TCF Bank Stadium; Minneapolis, Minn. 5:30 p.m.
New York Cosmos vs. Carolina RailHawks
Hofstra University's James M. Shuart Stadium; Hempstead, N.Y. 7 p.m.
Indy Eleven vs. Atlanta Silverbacks
IUPUI's Michael A. Carroll Stadium; Indianapolis, Ind. 7:30 p.m.
Fort Lauderdale Strikers vs. Tampa Bay Rowdies
Lockhart Stadium; Fort Lauderdale, Fla. 7:30 p.m.
Sunday, August 3
FC Edmonton vs. San Antonio Scorpions
Clarke Stadium; Edmonton, Alberta 4 p.m.
The Championship Defined
As a reminder, the Spring Season Champion (Minnesota United FC) and Fall Season champion (currently San Antonio Scorpions) will be joined in the semifinals of The Championship by the two clubs with the next best overall records from both seasons combined (currently New York Cosmos and Carolina RailHawks). The semifinal winners will compete in The Championship final.
About the NASL:
The North American Soccer League is a professional soccer league established in the United States and Canada. The NASL member teams are: Atlanta Silverbacks, Carolina RailHawks, FC Edmonton, Fort Lauderdale Strikers, Indy Eleven, Minnesota United FC, New York Cosmos, Ottawa Fury FC, San Antonio Scorpions FC and Tampa Bay Rowdies. Jacksonville Armada FC and Oklahoma City will commence play in 2015, while Virginia Cavalry FC kicks off its inaugural season in 2016.
For more information about the NASL, visit http://www.NASL.com. Follow the NASL on Twitter @NASLOfficial and Facebook at http://www.Facebook.com/NASLfans. Fans can watch every game live at http://www.NASLlive.com.