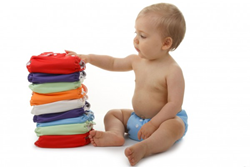 We spent more than a year testing top cloth diaper systems to find the best.
Cheyenne, WY (PRWEB) July 31, 2014
BabyGearLab today announced the results of its extensive test and review of cloth diaper systems. Based on more than 1 year of extensive hands-on testing, combined with lab tests to closely examine functional elements such as absorbency, BabyGearLab rated each cloth diaper on five critical performance metrics. All the products were compared side-by-side, and was used with both infants and toddlers before scoring was finalized. The following performance metrics were included in the rating system: absorbency, fit and leakage, comfort, ease-of-use, and eco-health. The complete details of BabyGearLab's Best Cloth Diaper Review are available now online.
The award winning products are listed below:

Editors' Choice Award for Best Cloth Diaper was given to the Rumparooz G2 made by Kanga Care. "After our year long testing period, the was no cloth system we preferred more than Rumparooz G2 -- it was simply our favorite," said BabyGearLab founder, Dr. Juliet Spurrier. "The Rumparooz impressed us in both day-to-day ease of use and in technical tests such as absorbency where it scored near the top. We loved how soft the diaper is, and the patented double-gusset system earned our highest score in fit and leakage prevention."
Best Value Award was won by the Flip Hybrid diaper system by Cotton Babies. "The Flip system was the second highest performing cloth diaper in our tests, yet it had an estimated lifetime cost less than half that of competing cloth diaper systems, and thousands of dollars less than comparable disposable diapers," said Dr. Spurrier. "We did not expect that a product costing so much less would so dramatically outperform products costing hundreds of dollars more. The Flip earned top scores for absorbency, comfort, and ease-of-use, and near the top on fit/leakage. We would recommend the Flip Hybrid without hesitation."
Top Pick for Best Green Cloth Diaper was awarded to the GroVia Hybrid. "While we consider all cloth diaper systems to be green, the GroVia Hybrid is ideal for the eco or health-minded parent," commented Dr. Spurrier. "Many of the cloth diapers we tested with natural material inserts performed relatively poorly in our absorbency tests. Not so the GroVia, which performed above average in absorbency using an insert made with a unique blend of hemp and cotton. And, the GroVia Hybrid also delivered scores at or near the top in every other performance metric in our tests. It is a diaper system which offers uncompromising performance and uniquely natural and healthy materials."
BabyGearLab has also published a complimentary online article offering buying advice entitled, "How to Choose the Best Cloth Diaper." The buying advice guide attempts to take the mystery out of cloth diapering by taking the reader step-by-step through the types of systems available, how to evaluate them, and how get started with cloth diapering in the easiest manner possible.
About BabyGearLab:
Founded two years ago by Board-certified pediatrician Juliet Spurrier, MD, BabyGearLab has quickly become one of the most highly regarded sources of quality reviews and comparison of baby products. BabyGearLab is committed to extensive testing and comparison of products, and transparency in findings from those tests. The site also publishes informative buying advice guides, and health and safety articles.