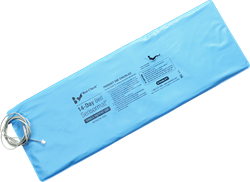 "Hospitals are delighted with the increased savings and waste displacement afforded through adding these bed and chair alarms to a reprocessing protocol." - Kathy Newton, HYGIA Director of Customer Service
Birmingham, AL (PRWEB) July 31, 2014
HYGIA Health Services, the leading provider of Essential Clinical Commodities (ECCs) through their multiplication and management program, now offers bed and chair fall alarms in their catalog of single use, non-invasive devices around the patient room. Since the recent addition of bed and chair alarms, many HYGIA customers have seen savings increase significantly.
"Hospitals are delighted with the increased savings and waste displacement afforded through adding these bed and chair alarms to a reprocessing protocol." - Kathy Newton, HYGIA Director of Customer Service
When hospitals chose to purchase HYGIA's ECCs, they receive high quality, FDA-approved medical devices at a substantially lower price than the Original Equipment Manufacturers (OEMs) would charge--all while preventing pounds of waste from entering the landfill.
Essential Clinical Commodities
Essential Clinical Commodities (ECCs) are products—such as bed and fall alarms—throughout the hospital that are essential for the clinical setting and can be managed and reprocessed with HYGIA using FDA approved methodology to save over $1,000 per bed per year. Many are Single Use Devices (SUDs) historically thrown away, generating millions of pounds of landfill waste.
Step Above Typical Reprocessors
Typically, medical reprocessors focus on surgery devices and ignore the large opportunity in other areas of the hospital to save substantial money and eliminate landfill waste. HYGIA's high quality processes—specifically designed for ECCs—clean, test, disinfect, and repackage items using FDA approved processes to provide hospital products such as cerebral-somatic sensors, blood pressure cuffs, SCD/DVT sleeves, pulse ox sensors, ECG leads, pneumatic tourniquets, infusor bags, splints, masks, and now bed alarms. This comprehensive savings and green program has prevented an average of 300 thousand feet of products and packages from entering landfills per customer and can produce over $5290 in hard cost savings per bed over 5 years.
"HYGIA's Green² initiatives for essential clinical commodities substantially reduce hospital current landfill waste contributions while saving them up to $1,000 per bed per year in a largely ignored and untapped area of savings. Medical reprocessors only skim the surface of what you will save with HYGIA." - Scott Comas, President & CEO, HYGIA
Free ECC Improvement Analysis
HYGIA offers a pre-contract ECC improvement analysis to create an operational baseline and discover the extent of potential savings, green impact, and efficiency improvements over time. Contact us today to find out how much you could save!
About HYGIA
For over a decade, HYGIA has provided 300+ hospitals in 45 states substantial savings and a more environmentally friendly option for managing their high volume essential clinical commodities (ECCs). Devices eligible for ECC management include blood pressure cuffs, hospital cubicle curtains, cerebral-somatic sensors, SCD/DVT sleeves, pulse ox sensors, ECG leads, pneumatic tourniquets, infusor bags, splints, masks, bed alarms, and stethoscopes. HYGIA achieves greater cost savings and elimination of landfill waste by concentrating on the often-ignored essential clinical commodities throughout the rest of the hospital rather than narrowly focusing on surgical items, like traditional medical reprocessors. Incorporating accountable relationships, high quality processes, and better patient experiences into the business model, single use devices (SUDs) and other ECCs are cleaned, reprocessed, tested, disinfected, packaged, and managed for superior patient room asset utilization and greater green impact. Learn more at http://www.hygia.net.
Keywords: bed alarms, chair alarms, essential clinical commodities, reprocessing, reprocessor, medical reprocessors, HYGIA, green initiative, FDA, ECC