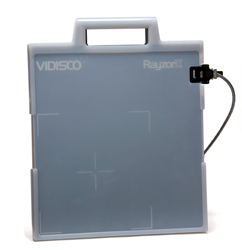 (PRWEB) July 31, 2014
The silicon protective cover for the RayzorX provides extra protection for use in the field. It is lightweight and especially designed to protect the digital flat panel against scratches and dents. The silicon cover offers increased flexibility in the setup process as it is compatible with the RayzorX's tripod mount and with the Imager Holder. The cover is provided free of charge with the purchase of a new RayzorX portable digital X-ray security system.
The RayzorX flat panel is the thinnest imager in the world. It is completely portable and 100% battery operated, weighing only 3.5 kilos. It produces top quality X-ray images on the spot and easily packs into a backpack or suitcase that can be carried anywhere. The new backpacks and suitcases for the RayzorX are especially designed to contain the panel with the silicon cover.
Vidisco Ltd. is a leading designer and manufacturer of state-of-the-art portable X-ray inspection systems. Founded in 1988, Vidisco's portable digital radiography systems are used in over 75 countries around the world. These top of the line systems can be used in almost any environment or terrain and is offered for the Security, NDT and Veterinary fields.
In the area of Security, Vidisco's portable digital X-ray inspection systems are used for bomb detection and disposal (EOD/IED), VIP protection, searches for drug/contraband smuggling, customs and forensics and more. In NDT, Vidisco's ruggedized portable digital X-ray systems are employed for field inspections in the areas of aerospace, shipyards, pipes and welds, art and research, casting, construction and electrical power.
In the veterinary field, portable digital X-ray is mostly used by veterinary professional who specialize in race horses and equine medicine.
Ron Pincu, VP Marketing at Vidisco explains: "Vidisco is happy to offer yet another accessory that will make the use of our portable digital X-ray systems even more comfortable for field use. Vidisco strives to be the best fulfilling our customers' needs and wants by providing the most rugged, all terrain, top-quality X-ray systems."