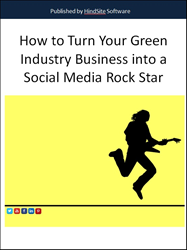 The green industry is becoming more active on social media. We at HindSite wanted to give the industry a few pointers so they have a leg up on the competition.
St. Paul, MN (PRWEB) August 01, 2014
Social media has virtually taken over the world, no pun intended. When it comes to the green industry, social media can be a blessing or a curse. Being able to navigate the internet and use social media as a marketing tool is essential to your success these days.
HindSite Software, the leading provider of field service software to the green industry, recently released a new eBook, How to Turn Your Green Industry Business into a Social Media Rockstar, that outlines 15 ways that will allow your green industry business to master social media marketing and use it to boost your success as a business.
The eBook touches on the importance of keeping a business relevant and always staying true to a business' professional brand. How do customers perceive a business? Innovative? Helpful? It's important to understand and be conscious of how customers to perceive a business. Keeping brand perceptions in mind when creating social content is important.
HindSite owner, David Crary, explains why an effective social media marketing strategy is essential to a business' success, "Marketing has completely changed over the years. It's important to keep up with the trends and shift your marketing strategies accordingly."
It's no secret that the easiest way to get seen is to be present online. "The green industry is becoming ever more active on social media, we at HindSite wanted to give the industry a few pointers so they have a leg-up on the competition."
Each chapter of the eBook addresses a different aspect of social media success, all making up the whole of what it means to be a successful online marketer. The eBook was written with green industry businesses in mind and the strategies in the eBook are there for readers to gain an understanding of online marketing and how to create that for your business.
"Our goal with our content is always to help field service businesses be as successful and profitable as possible." This eBook is no different, with the green industry business in mind, Crary lays out his advice in a simple yet entertaining way.
Visit http://info.hindsitesoftware.com/how-to-turn-your-green-industry-business-into-a-social-media-rock-star to download the free eBook.
About HindSite Software
HindSite Software has helped contractors better manage and grow their business with green industry software since 2001. Designed by an irrigation contractor, HindSite assists service businesses with scheduling, contact management, field data collection (e.g. mobile field service software), and invoicing in QuickBooks® and Sage 50. This paperless work order management software has been proven to increase efficiency and organization, meaning greater profit potential with less administrative time.