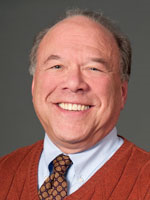 'Mother's milk is without question [the] best for infants,' said Dr. Steven Shapiro, chair of Pediatrics at Abington Memorial Hospital.
Abington, PA (PRWEB) August 01, 2014
For years, proponents have praised breast-feeding as being more beneficial than bottle-feeding. A recent study conducted by the Ohio State University, suggests that bottle-fed babies may not lag too far behind in terms of their health and development, raising questions among mothers who simply want to know what's best for their baby. So does this new research change the game?
According to Dr. Steven Shapiro, chair of Pediatrics at Abington Memorial Hospital, not at all. "Mother's milk is without question [the] best for infants. Cow's milk-based formulas, regardless of how professionally and thoughtfully they are prepared, are still derived in their entirety from cow's milk."
During the study, researchers compared siblings who were fed differently during infancy in order to look at the health benefits in both breast-feeding and bottle-feeding. Based on their data, the benefits of breast-feeding appear to be overstated. As a result, researchers have suggested that the way in which a mother feeds her baby isn't as significant as the internal family unit. This entails looking into other factors that affect a child's health and development, such as childcare, maternity leave, school quality, housing and employment.
While there is little question that environmental stress will influence competence, intellect, behavior, and attachment of the infant, Dr. Shapiro stresses that breast-feeding provides more nutrition for an infant during her first few months, which is the most significant time of growth and development.
"The content of breast milk as it applies to the newborn's immune system has been well chronicled and includes many elements including lymphocytes [white blood cells] and immune globulin[antibodies that protect the body against diseases]," said Dr. Shapiro. "Proteins and essential fats are structured for optimal absorption, which results in deposition of brown fat (as opposed to yellow fat) in the newborn. Brown fat has been shown to be essential for the proper and most efficient absorption of fats in the newborn."
In some cases, however, a mother might have no other choice but to bottle-feed her baby. This often happens when a mother's milk supply is insufficient for proper growth, which can occur if the infant is large or if she has twins or triplets.
"In any situation such as this, my advice to the mother is to develop a schedule that makes sense for her and her family's needs and supplement with an appropriate formula when necessary," said Dr. Shapiro. "I make it crystal clear that the infant benefits from any amount of breast milk that it can receive whether it's 50 percent or 99 percent."
Abington Health has lactation consultants on staff to assist new moms with breastfeeding and to address any concerns. To speak to a lactation consultant, please call 215-481-6104.
About Abington Health
Abington Health is the umbrella organization that encompasses its flagship hospital, Abington Memorial Hospital, in Abington and Lansdale Hospital in Hatfield Township. Abington Health also includes four convenient outpatient facilities, Abington Health Center - Schilling in Willow Grove, Abington Health Center - Warminster in Bucks County, Abington Health Center – Blue Bell, Abington Health Center – Montgomeryville and Urgent Care Centers in Flourtown and Feasterville. Together, these facilities serve more than 39,000 inpatients, 134,000 emergency patients and over 653,000 outpatient visits annually.
More than 1,400 physicians are on staff at both Abington Memorial Hospital and Lansdale Hospital. Additionally, Abington Health Physicians is an employed network of primary care physicians and specialists. Abington Health has more than 6,100 employees, making it one of the largest employers in Montgomery County.
Cynthia Colen, David Ramey (February 25, 2014) Breast-feeding Benefits Appear to be Overstated, According to Study of Siblings.
http://researchnews.osu.edu/archive/sibbreast.htm