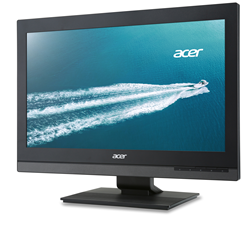 The Veriton Z4810G series AiO desktops are ideal for professionals wanting to save space or desire an attractive and user-friendly computing solution for boardrooms, executive offices, bullpens, reception areas and more.
Mississauga, Ontario (PRWEB) July 31, 2014
Editors' Summary:

23-inch Full HD LED-backlit LCD display with IPS technology delivers crystal clear visuals
Full HD webcam that can rotate up to 180 degrees increases collaboration
Robust management and security suite updates system images and safeguards data
Both Intel® Core™ i5 and Intel® Core™ i7 models available with prices starting at $999 CAD
Dual load Windows 8 Pro/Windows 7 Professional operating system(1)
Acer today announced the new Veriton Z4810G series all-in-one (AiO) commercial desktops with 23-inch Full HD IPS displays for both businesses and institutional customers in Canada. The new AiO desktops deliver Full HD visuals and comfortable ergonomics in a manageable and secure platform.
The Veriton Z4810G series AiO desktops are ideal for professionals wanting to save space or desire an attractive and user-friendly computing solution for boardrooms, executive offices, bullpens, reception areas and more. The 23-inch LED-backlit LCD with IPS technology delivers vivid, clear visuals thanks to a 1920 x 1080 maximum resolution with a 16:9 aspect ratio. Removable feet and VESA wall mount support enable the display to be hung on a wall to maximize desk space. The 2.0MP Full HD webcam can rotate up to 180 degrees to accommodate multiple participants during videoconferences, while two built-in speakers with high-definition audio provide clear sound.
"Featuring a Full HD display and webcam, our newest commercial AiO desktops deliver stunning images for multimedia applications, presentations, spreadsheets and more," said Kamesh Ramalingam, Acer business manager. "The sleek and attractive design saves space and makes a positive first impression in high visibility locations including boardrooms, reception areas and executive offices. Plus, IT professionals will appreciate the inclusion of Acer Office Manager and Acer ProShield, which streamline asset management and data security."
Powerful, High Performance Configurations
Two models are available to suit different power demands and budgets. These include the Acer Veriton Z4810G-EI5446X for a manufacturer's suggested retail price (MSRP) of $999 CAD and the Acer Veriton Z4810G-EI7478X for a MSRP of $1,199 CAD.
Ideal for mainstream power users, the Acer Veriton Z4810G-EI5446X is outfitted with an Intel® Core™ i5-4460T (1.9GHz) processor, 4GB memory and a 500GB(2) hard drive. Built for more demanding workers, the Acer Veriton Z4810G-EI7478X has an Intel® Core™ i7-4785T (2.2GHz) processor, 8GB memory and significant storage thanks to a 1TB(2) hard drive and an 8GB solid state drive.
Both models offer excellent connectivity with two USB 3.0 ports and four USB 2.0 ports as well as ports for HDMI, DisplayPort and VGA. Expansion is available with two mini PCI Express® slots. These AiO desktops also come with an optical drive, 802.11 a/b/g/n wireless and Win7/8.1 Pro 64-bit. An ErgoStand, which can be adjusted from -5 to 30 degrees for finding the optimum viewing angle, is available as an option.
Robust Management and Security Suite
The Acer Veriton Z4810G series comes with practical tools for managing system images and protecting intellectual assets. TPM 1.2 compliant, the systems conform to corporate-level security requirements and lower total cost of ownership over the product's lifecycle.
Acer Office Manager (AOM) remotely manages and controls computers from configuring their system settings to receiving detailed reports and deploying different usage limitations. Acer ProShield provides critical security and management features within a unified user interface. A single-client console application, it encompasses an encrypted hidden drive for archiving confidential files, a file shredder for purging sensitive materials, and a BIOS import and export tool for streamlining system management.
Acer's One Button Recovery (OBR) function simplifies back-ups and restores the Veriton's original factory default settings if the PC's operating system files are lost or damaged. In addition, the Veriton ControlCenter streamlines routine IT tasks and includes:
Acer eSettings Management, an intuitive interface for configuration and control of the system
Acer PowerSaver for configuring power levels according to computer usage
Acer SmartBoot for automatically loading frequently used programs in the system tray at start up
The new Acer Veriton VZ4810G AiO models are available with a USB keyboard and mouse through value-added resellers and channel partners in Canada in August. Prices begin at $999 CAD.
These systems are backed by professional, high-quality technical support and a three-year warranty.(3) Acer's online community at community.acer.com provides customers discussion forums, answers to frequently asked questions and the opportunity to share ideas for new and enhanced services and products.
About Acer
Established in 1976, Acer is a hardware + software + services company dedicated to the research, design, marketing, sale and support of innovative products that enhance people's lives. Acer's product offering includes PCs, displays, projectors, servers, tablets and smartphones — tools our customers need to explore beyond limits and experience more. Acer employs 7,400 people and ranks No. 4 for total PCs globally.(4) Revenues for 2013 reached US$12.02 billion. Please visit http://www.acer.com for more information.
© 2014 Acer America Corp. All rights reserved. Acer and the Acer logo are registered trademarks of Acer Inc. Other trademarks, registered trademarks, and/or service marks, indicated or otherwise, are the property of their respective owners.
All offers subject to change without notice or obligation and may not be available through all sales channels. Prices listed are manufacturer suggested retail prices and may vary by location. Applicable sales tax extra.
1) Windows 8 Pro includes downgrade rights to Windows 7 Professional
2) Accessible capacity varies; MB = 1 million bytes; GB = 1 billion bytes
3) Limited warranty agreement applies. For a copy, write to Acer Customer Service, P.O. Box 6137, Temple, TX 76503.
4) IDC 2013