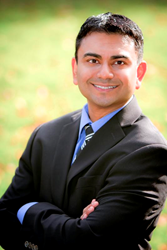 Forming good friendships is among the most difficult and most rewarding things you can do. They are necessary for our well-being and touch us to our deepest core.
Washington, DC (PRWEB) July 31, 2014
Moving to a new town is exciting and presents many new opportunities, but it's also a stressful experience and one that leaves many people without close family and friends nearby. After the unpacking is done and the new house starts to feel like home, it's time to get started on cultivating new friendships. Dr. Sanjay Jain says, "Forming good friendships is among the most difficult and most rewarding things you can do. They are necessary for our well-being and touch us to our deepest core."
In celebration of the International Day of Friendship, Dr. Jain is sharing five tips to help adults create new friendships when they find themselves living far away from existing friends. Dr. Jain suggests that adults:
-Work on new relationships at work. People spend the majority of their waking hours at work, so it's the natural place to look for new friends. Take part in social events like holiday parties, group dinners and after-work happy hours to build up a good rapport and create friendships at work and beyond.
-Join clubs or groups to find like-minded people. Whether it's a health club, an art class, a music group, a service organization or attending a house of worship, it's a good idea to join a group or club to meet people who share at least one of the same interests and passions. This isn't the time to be shy; jump into the activities and start conversations with others.
-Go online to meet locals. It sounds counterintuitive, but in this digital age, all it takes is a few searches on Twitter, Facebook, Linked In or Meetup to find local people who might be good friend material. It doesn't take long to get to familiar with how these social networks work and create a profile. Join virtual groups of people who work in the same industry, live in the same neighborhood or city, and have similar interests. Once online friendships have been established, take the relationship offline by hanging out over coffee or attending shows together.
-Look to the kids' social circles. Kids tend to make friends more quickly than adults, so it's possible that they'll have a flock of friends before their parents do. Connect with the parents of these kids to arrange play-dates for the kids while the adults get to know each other over coffee.
-Don't let go of existing friendships. Even after a move, no matter if it's 200 or 2,000 miles away, it's essential to maintain ties to friends in that city. They're just a phone call or email away, and may be able to share leads to potential friends in the new city. Connect with old pals at least once a month; they'll be able to provide the support that's needed in times of change, and can give encouragement when it's most needed.
Finally, when moving to a new place, it's important to remember not to take it personally if possible friendships don't work out. Accept the fact that it may take awhile to establish a social circle, but don't give up; one never knows where they'll find their next friend.
About Dr. Sanjay Jain:
Sanjay Jain, M.D. MBA is a New York Times and USA Today Best Selling author, accomplished medical doctor, health expert, life coach and inspirational keynote speaker who has dedicated his life to helping people find their purpose by achieving a meaningful life that they deeply cherish.
Sanjay Jain is U.S. trained and a board certified physician with over 15 years of clinical experience. He holds certifications in Diagnostic Radiology, Integrative Medicine, and Healthcare Quality and Management. He is a graduate from the accelerated BS/MD program at The Northeast Ohio Medical University. He has diversified experience in the private practice, academic, and integrated multispecialty settings.
He was a former assistant professor at The Ohio State University where he also obtained his MBA at the Fisher School of Business. The combination of which has given him a unique voice and understanding of the many issues we face today in a real and practical sense.
Follow Sanjay on Twitter at @sanjayjainmd. His new book, Optimal Living 360: Smart Decision Making for a Balanced Life(Greenleaf) is available in stores now!