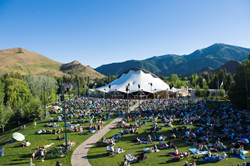 Sun Valley, Idaho (PRWEB) August 12, 2014
Sun Valley Symphony Celebrates 30th Season with Stellar Lineup.
The Sun Valley Summer Symphony returns for summer 2014 with a stellar lineup of world class musicians for its 30th Anniversary season as the largest privately funded, free admission symphony in the United States. With a packed schedule of eighteen performances scheduled weekly from July 28 through August 18, 2014 this is a destination musical experience found nowhere other than Sun Valley.
Directed for the past twenty seasons by Alasdair Neale, director of the Marin Symphony and Principal Guest Director of the San Francisco Conservatory of Music, the Sun Valley Summer Symphony has risen to national status and attracted some of the finest talent on the continent. This summer's lineup features a wide variety of guests musicians accompanying the symphony's all star cast including top 10 iTunes singer/songwriter Joshua Radin, piano virtuoso Jean-Yves Thibaidet, soprano Sydney Mancasola, and three-time grammy nominated Cuban group Tiempo Libre among others.
Housed in Sun Valley's award winning Sun Valley Pavillion, one of the most striking architectural outdoor performance venues in the country, guests can sit within or as is commonly popular, sit on the Sun Valley lawn and enjoy an early evening picnic. With a massive outdoor LCD screen broadcasting the show inside the pavilion to those on the lawn accompanied by amplified sound from the stage the experience is seamless. Additional attractions include the Kids Music Tent on the lawn which allows kids ages 4-8 to explore music in a hands-on environment during the concert.
After an activity filled day in Sun Valley mountain biking, hiking, fly fishing, or just enjoying the beauty of the area and quaint personality of the town nothing beats cleaning up a bit and settling into a delicious picnic with good friends on the symphony lawn. It's a summer Sun Valley tradition just waiting to be experienced.