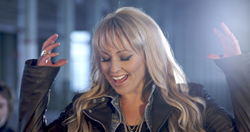 London (PRWEB UK) 31 July 2014
The singer songwriter, is widely considered to be one of the preeminent vocalists in her genre. Catchy melodies and evocative lyrics embrace a soulful voice in her musical style, in her own compositions - Rebecca Bains is here and ready to light up your life.
The new single country rock inspired is laced with guitar riffs and clever phrases, brought to life with Rebecca's descriptive voice and strong, earthy personality.
A Yorkshire "lass" born to a working class family of musicians, Rebecca hails from a theatre background, having been in productions such as The Phantom of the Opera and gathering numerous TV credits.
Rebecca mentions:
"To be fortunate enough to sing music written by other artists and composers is a wonderful experience, trying to interpret their inspiration, but I've always written original stuff and wanted to tell those stories of people I've met and things I've seen in my music. That could only mean one thing - going back on the road."
Rebecca's influences are diverse and her inspiration streams through a lot of what she does from some of the worlds greatest country rock artists, like Bob Dylan and Bruce Springsteen right back to the heart of country, blues and rock n roll. Every artist she lists as musical heroes have a place in her material. From her early teens spent playing clubs, bars and touring Rebecca Bains seems a veteran to the music scene, switching off from the real world in her performances and delivering a phenomenal uplifting experience that leaves the audience enchanted.
Rebecca's music carries a unique message of light - a message in modern music that you could say has been a bit lost in translation over time. True to her roots, Rebecca Bains is a real contender in the battle for the female "North Country Rock" crown and her emergence as a mainstream recording artist is causing a media stir with critics, already predicting that she will storm America.
The single "Hard Road" is available to purchase through all major media providers including iTunes with the debut album expected to drop next year followed by a UK promotional tour.