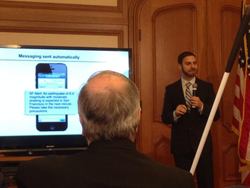 San Francisco, CA (PRWEB) August 01, 2014
In conjunction with Regroup's collaborative work with the San Francisco Department of Emergency Management through Mayor Ed Lee's Entrepreneurship-in-Residence (EIR) program, Joe DiPasquale, CEO of Regroup, presented work on a multilingual, automated early earthquake warning notification system.
Earthquakes in the San Francisco Bay area such as in 1906 and the Loma Prieta earthquake of 1989 caused both death and destruction. There is a 94% chance of an earthquake stronger than Loma Prieta occurring in California in the next 30 years. San Francisco is especially susceptible due to its proximity to the Hayward and San Andreas fault lines. Through seismometers placed by the US geological survey on faultlines, it is known that earthquakes will come up to minutes before they hit an area. But, this information is not currently announced. Recently, a state-wide, unfunded mandate was put into place for early earthquake notifications.
If Regroup's early earthquake warning functionality were to go into production, this would be the first of its type in the United States. Other countries such as Japan have implemented such a system. It would also be one of the few cities in the U.S. where emergency messaging is sent in multiple languages. The San Francisco Language Access Ordinance (LAO), formerly known as the Equal Access to Services (EAS) Ordinance, was enacted in 2001 to ensure official notifications are sent in commonly spoken languages such as English, Chinese, Spanish and Tagalog.
The presentation was held at the EIR Demo Day media event on July 30, 2014 at City Hall. Mayor Lee, Chief Innovation Officer Jay Nath, and other key civic innovators and stakeholders were in attendance. Panelists included Bryan Bashin with Lighthouse for the Blind, Alissa Black from the Omidyar Foundation, Kiran Jain with the City of Oakland and Kim Mai-Cutler from TechCrunch.
Regroup's pilot system would trigger notifications to cell phones, landlines, email, websites, social media, digital signage and other communication channels to provide city officials and citizens with the rapid early earthquake warnings (EEW) they need in order to take protective measures. Regroup would integrate with federally funded California Integrated Seismic Network (CISN) ShakeAlert EEW, which currently provides notifications to a closed system via a desktop application.
When warning times can run from seconds to minutes, depending on strength and distance from the epicenter, it is critical that EEW notifications be automated. Triggered EEW alerts would drastically speed up the process and provide the additional time citizens need to take actions for reducing the risk of serious injury or death, i.e., moving to a more structurally sound building, moving away from windows or equipment, turning off gas burners, etc. The faster delivery of early earthquake warnings would also provide city officials with the valuable time they need to implement emergency response protocols.
Following Regroup's selection into the EIR program this year, Senior Advisor Rahul Mewawalla said, "The ability to quickly and easily reach large numbers of people across a wide range of situations and environments is critical for enhancing public safety in cities and states across the nation."
For a Live Demo of Regroup's Mass Notification System, sign up here: bit.ly/1AE0LBf.
About Regroup:
Regroup, the leading provider of Emergency Notification and Mass Communication solutions, was founded at Stanford University in 2006 to solve the need that organizations have for easy, effective multi-modal messaging. Regroup offers one-click messaging to mobile (text/voice), landlines, email, social media, websites, and more. Regroup stands apart from other messaging systems with its ease of use, seamless integration with social media and client databases, unparalleled reliability, and unlimited text/voice/email messaging. Regroup offers 24/7/365 day a year support and saves clients' money — on average 50%. Regroup currently serves government clients, educational institutions, non-profits and businesses.
To learn more about Regroup's Emergency Messaging and Mass Notification System, please call 917-746-6776 or email inquiries(at)regroup(dot)com.