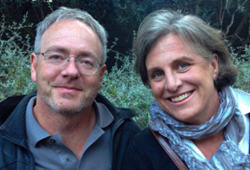 Los Angeles, CA (PRWEB) August 04, 2014
Woodbury University (http://www.woodbury.edu) and AC Martin Partners, Inc. (http://www.acmartin.com) today jointly announced establishment of the AC Martin Scholarship, to support deserving students pursuing design excellence in the academic programs of the Arid Lands Institute (ALI), a self-sustaining education, research, and outreach center at Woodbury.
Funded by a $15,000 gift from AC Martin, the scholarship places one of the region's top architectural firms in a lead position at an important new institute specializing in issues of aridity, climate change, and design of the built environment. The AC Martin Scholarship will assist students entering ALI's Master of Science in Architecture program.
The scholarship will support one or more students working with ALI (http://www.aridlands.org/) in its educational programs, which include immersive field work, transdisciplinary seminars, research-driven design studios integrating science, policy, and design (landscape, urbanism and architecture), and public-outreach initiatives such as Divining LA.
"The Arid Lands Institute is the only design program of its kind – it's in the forefront of issues of water, climate change, and design of the built environment," said Ken Lewis, AIA, Chief Operating Officer and Firm Sustainability Leader, AC Martin. "We're deeply honored to be able to support ALI, its research and its efforts to preserve our natural resources. The AC Martin Scholarship recognizes that to attract passionate, talented students, it's essential to begin to reduce the financial burdens of tuition and living costs."
"We're gratified to be able to partner with AC Martin as we work to train the next generation of design leaders," said Hadley Arnold, co-founder and director of the Arid Lands Institute. "ALI is dedicated to formulating innovative, low-carbon water solutions in a changing climate, which is why the AC Martin Scholarship is so timely and necessary. Unleashing student creativity will, over time, benefit the culture, the economy, the built landscape, and the ecosystems of Los Angeles and cities like it."
According to Norman Millar, AIA, Dean of the School of Architecture at Woodbury, the AC Martin Scholarship represents "an ideal collaboration" of like-minded organizations. "There's genuine synergy between ALI's design focus and AC Martin's forward-looking work as a leader in sustainable building design in California," Millar said. "Through this relationship, we look to extend the value of the research and the teaching ALI is undertaking with partners across the region."
ALI co-directors will recommend candidates to AC Martin based on academic performance, design excellence, and financial need. The scholarship is designated for the 2014-2015 academic year, which begins August 20 and runs through May 20, 2015.
About AC Martin
AC Martin is a Los Angeles-based architecture, planning, interior architecture and research firm. Founded in 1906 by Albert C. Martin, Sr., the firm continues a long standing tradition of creating and shaping enduring environments that affect people's lives in a positive way. Architecture has changed exponentially since the early 20th century; and AC Martin's priority is to be at the forefront with an approach that is sustainable, technologically advanced, informed by research and pushes the boundaries of design.
About Woodbury University
Founded in 1884, Woodbury University is one of the oldest institutions of higher education in Southern California. Woodbury offers bachelor's degrees from the School of Architecture, School of Business, School of Media, Culture & Design, and Institute of Transdisciplinary Studies, along with an MBA program, Master of Architecture (MArch), Master of Science in Architecture (MSArch), and Master of Organizational Leadership. The San Diego campus offers Bachelor of Architecture, Master of Real Estate Development for Architects (MRED), and Master of Science in Architecture, Landscape, and Urbanism degrees. Visit http://www.woodbury.edu for more information, and Reflections on Excellence, a twice-monthly blog written by Woodbury University President Luis Maria R. Calingo, Ph.D.