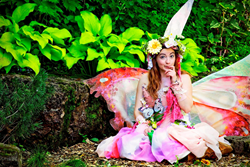 Knights, Mermaids, Fairies and more.
Shakopee, MN (PRWEB) August 01, 2014
His majesty King Henry invites one and all to attend the royal event of a lifetime.
All season long, the festival will be host to Shakespeare's 450th Birthday Celebration. Guests can flex their literary brain muscles on the Pavilion stage or cheer from the crowd in the first ever Shakespeare Competition, occurring the final weekend of the festival. Hangin' with the Bard will use the game of hangman to reveal common phrases that people still use today that originated within the lines of Shakespeare's greatest plays.
The most seasoned Shakespearean actors of the renowned Words Players Theatre are bringing their talents to the Realm. See SkyVault Theatre on-stage and in the streets as they perform Shakespeare for a modern audience, complete with lively music and fanfare in this season long celebration.
Come mingle with the Princess Court daily at the Fairytale Princess Party while enjoying a light snack, crafts and entertainment with a photo opportunity at the end. Visitors can seek out the infamous Throne of Swords to claim their destiny or meet their untimely doom. Stop by the new Kid's Craft Corner to enjoy art with the whole family. Crafts include Pirate Hat Making, Fairy Wand Making, Coloring Contests and more.
A juicy turkey leg may be a can't-miss tradition, but this year the festival boasts 25 new mouthwatering foods that will satisfy both hunger and curiosity. Hearty entrees like the Fajita Salad are family-friendly pleasers, while the BBQ Pulled Pork Cone and the Ghost Pepper Burger are just waiting to be tasted. Don't forget about the new Artisan Ice Creams to provide a sweet punctuation to a day at the Faire.
Taste buds still craving more? Indulge in two favorites at the Pig N' Swig, a new sampling event held daily at the festival. Enjoy four beer-and-bacon pairings while socializing with friends and entertainers. Looking for a spirited tour of the grounds? Swirl, Sip and Stroll may be the highlight of the visit. Savor a selection of wine and scrumptious hors d'oeuvres while strolling through the festival.
Feast of Fantasy fans can start lining up for two new Featured Feasts. The Feast of Fantasy hosts, Laszlo Nemesi and Jim Cunningham, ensure that royal guests are not only satisfied by the royal chef's creations, but also by the atmosphere of Bad Manor with endless amusement. Visit Sept. 13 and experience the Royal Wine Feature Feast¸ sponsored by Sutter Home, pairing four delectable wines with six delicate courses. Sept. 20 champions the Craft Beer Feature Feast, sponsored by Shell's, with six courses and four flights of locally-brewed craft beer. Want to indulge in craft beer every day of the festival? Fill a beer stein with a new showcased selection of distinctive, locally-brewed craft beer now available at the Festival's Minnesota Craft Beer Brew Pub.
New children's activities to the Realm include the Knights Challenge Obstacle Course. Only a true knight will be able to conquer this series of challenges. Compete against fellow knights in training to see who can complete the course. Afterwards, head over to the children's Knighting ceremony. Led by King Henry himself, children can receive the highest badge of honor by becoming a Knight of the realm.
Your favorite fairytales come to life in an enchanting Garden of Stories. Through the door, enter the land of "Once Upon A Time…" with Little Red Riding Hood, Robin Hood, Romeo & Juliet and more to hear their tales of love, loss and life.
The Renaissance Festival also boasts 50 family activities available every day of the Festival that will delight both young and old. Come to one of 16 stages to be amazed by the heart-pounding feats of The Danger Committee or the acrobatic tricks of Head Over Heels. Learn mock combat from The Royal Guard or bubble up some trouble with Dr. Thora Pandora's Chemistry Experience. Play dress up with the Princess Court, master juggling at the Juggling School, or slither through the Herp Society reptile petting zoo.
Sail the seven seas to the Buccaneer Beer Fest where parrots, peg legs and plundering rule the day Aug. 23-24. Come for Pirate Activities on the Pavilion, the Longbow and Tattoo Competitions and Free Shell's Beer Tastings. Next up is Passport to Adventure, bringing the world's wonders Sept. 6-7. Stroll through the International Bazaar, compete in the New Fantasy Mask Competition or watch the Weiner Dog Races during Petfest!
Enter into the wooded and mystical Fairy Wing Forest, and be introduced to magical characters, surprising creatures, song, dance and mystery. And don't forget about the live mermaids! Watch as Captain Maxwell Drake recounts his tales of finding the beautiful Mermaid Ambrosia during daily appearances in the Mermaid Cove.
During the Artisan Appreciation weekends August 16-31, guests will be able to support their favorite Shoppes' and get rewarded. Spend $250 at any Artisan booth and receive one free admission ticket to return on any of the remaining weekends! Get ahead on holiday shopping with the Christmas in September Artisan Promotion. Select from gifts under $25 and $50 or by categories including gifts for him, for her, for kids and even for pets.
The Minnesota Renaissance Festival's 44th season begins on Aug. 16 and ends on Sept. 28. The Festival is open weekends; Labor Day and Festival Friday, Sept. 26, open from 9 a.m. – 7 p.m., rain or shine. The Festival is located five miles south of Shakopee on Hwy 169. Festival patrons can enjoy 16 stages of live entertainment, 250 artisan vendors and 7 theme weekends, full combat jousting and food fit for a king. Admission at the gate: Adults $22.95; Children 5 – 12 $13.95; seniors $20.95; 4 and under are free. Discount tickets are available at participating Menards, Super America, Whole Foods and Walgreens. Coupons towards admission are available at participating Subway and Papa Murphy's locations. Visit http://www.renaissancefest.com or call 952.445.7361 for more information.