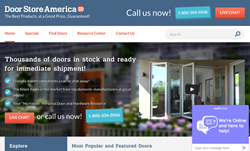 ...a one-stop-shop for homeowners, contractors and designers who are searching for the ideal door product.
Gardena, CA (PRWEB) August 07, 2014
Door Store America, a purveyor of high quality but affordable door products, launched a new website today: DoorStoreAmerica.com. Door Store America sources the best residential and commercial doors available on the market, and the company plans on using its new website to provide outstanding door products to its customers at a low cost while also providing outstanding customer service on an entirely remote basis.
Door Store America's new website will function as a one-stop-shop for homeowners, contractors and designers who are searching for the ideal door product. Few companies specialize solely in doors, but Door Store America understands the importance of selecting the perfect door or door product for a home, which is why the company carries thousands of door products, ranging from the finest-quality handmade wooden doors to inexpensive builder's doors. The doors are offered in a wide array of sizes, styles and wood species, and the company has worked closely with some of the top door manufacturers in the country to cultivate a collection that suits nearly every particular preference or need.
Different than other online door stores, and different from the big home improvement box stores, and different from your local lumber yard or window/door retailer, Door Store America strives to provide "Superior Service". Our expert staff of industry professionals will demonstrate our commitment to provide the highest level of support and service possible to our clients.
Furthermore, Anderson Moulding Doors and Windows operates as the parent company of Door Store America—for over 75 years, Anderson has been one of the most popular suppliers of building materials for contractors, homeowners and designers in Southern California. Capitalizing on Anderson Moulding's expertise, Door Store America can provide excellent customer service as well as firsthand knowledge on all of the door products available on the site, remotely: if a customer has a question about any door products listed on the site, Door Store America's expert consultants (who have ample experience with a diverse variety of building materials) can call or instant message a customer and answer any questions quickly and efficiently.
Lastly, Door Store America can ship any of its door products in three days or less at a competitively low price, guaranteed. Door Store America aims to provide its customers with only the most high quality door products available. The company's new website will allow its customer to have access to thousands of incredible door products from the comfort of their own home, and in addition, Door Store America will be able to provide an unrivaled service and shopping experience to customers across the globe.
For more information about Door Store America or its website, please contact the company at info(at)doorstoreamerica(dot)com or by calling at 800-504-0506. Door Store America specializes in providing door products for homeowners, contractors, designers and architects. Featuring thousands of doors, Door Store America's new website carries the best door products that are currently available on the market. For more information about the company, please visit http://doorstoreamerica.com/.